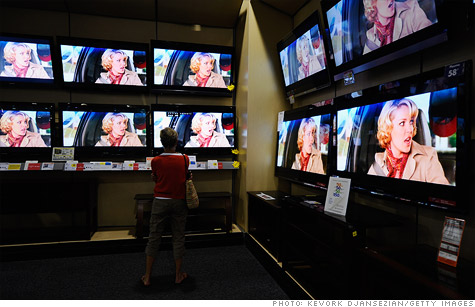 A lot of people are willing to overpay to snap up the latest, greatest tech gadgets. Be a little patient and stick to what you really need to nab the best deals.
(MONEY Magazine) -- Don't rush out to buy the newest gadget. Patience pays off with lower prices.
Time it right. Want a TV? Look just before the Super Bowl. In the market for a digital camera? New models are out early in the year. Notebook computers are often discounted in late summer for back-to-school shoppers.
The shopping site Decide.com can help you time your purchase based on a pricing-history algorithm and other factors. If nothing else, wait until December -- tech prices are generally lowest then as retailers try to entice holiday shoppers, says Michael Paulson, vice president of product and marketing for Decide.
Don't fear refurbished. Used tech on eBay or Craigslist could be a bargain -- or a bummer. Refurbished goods, however, come from the manufacturer or an authorized dealer and have been repaired, if needed, and certified. They also often have warranties.
And don't forget about last year's model: There's often little difference between the new version and the old except the price.
Stick to the basics. A dedicated computer-graphics card (about $100) isn't essential unless you're doing heavy photo editing or playing videogames, says Melissa Perenson, a senior editor at PCWorld.
For the typical user, one terabyte of storage is plenty. You can save about $100 on Blu-ray players by skipping the models that offer dual HDMI ports and 3-D support.
Go with solid brands. "Buying a brand that has a history of defects doesn't mean that you will get a faulty product, but it increases risk," says Ross Rubin, principal analyst at NPD Connected Intelligence.
Alienware, Apple, and Asus were recently tops in buyer satisfaction in PCMag.com's Readers' Choice Awards.
What you don't know. The iPhone 4S smartphone has 8 million pixels.
That's comparable to many $70 point-and-shoot cameras. It can record video as well as a $100 pocket videocamera and, paired with cheap wireless speakers, is a decent home stereo.
So while the phone's not cheap at $300 (plus a two-year contract), it looks like a bargain if it can replace several other devices.
4 Expert picks
Mike Prospero, reviews editor at Laptop magazine, picks these best deals on notebooks.
HP Pavilion G6X ($479) The processor on this stylish 15-inch notebook offers plenty of pep for everyday tasks such as web surfing, e-mailing, and writing documents. It also has a large keyboard. If you don't mind a refurbished model, you can get an even better deal.
Lenovo Thinkpad Edge E420 ($489) This small-business notebook has one of the best keyboards around and top-notch security features usually found only in more expensive machines.
Melissa J. Perenson, senior editor at PCWorld, picks these best deals on tablets.
Apple iPad2 ($399) You can pick up the 16GB model for $100 less than the newest iPad -- not bad for a tablet that still has the widest supporting system of optimized apps and accessories around.
Kindle Fire ($199) Amazon's seven-inch Kindle Fire hits a sweet-spot price and has better apps than the Barnes & Noble Nook Tablet. Plus you get access to Amazon's huge selection of books, music, and videos.
Do you know a Money Hero? MONEY magazine is celebrating people, both famous and unsung, who have done extraordinary work to improve others' financial well-being. Nominate your Money Hero.