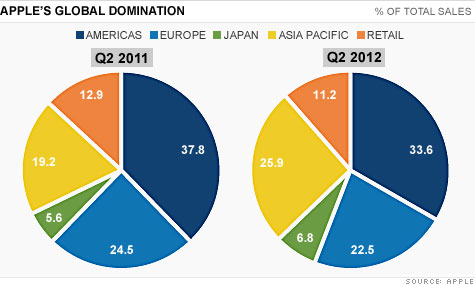 Apple's growing presence in China over the past year is further proof that the U.S. is not the most important market to fcous on.
NEW YORK (CNNMoney) -- If you are waiting for the Apple "bubble" to pop, you might be doing so for a very long time. Apple defied the skeptics Tuesday, blowing away earnings and sales forecasts.
Shares of Apple surged 9% Wednesday and are now back to within about 5% of their all-time high. I think the biggest mistake the Apple (AAPL, Fortune 500) bears made was being too eager to jump on "disappointing" iPhone activation numbers from Verizon (VZ, Fortune 500) and AT&T (T, Fortune 500). iCynics assumed that meant Apple would not be able to hit analysts' forecasts of 30 million iPhone sales for the quarter.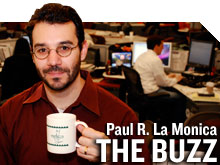 Apple nay-sayers either willingly or foolishly forgot the little fact that the company is now a global powerhouse. The iEverything craze is not just a U.S. phenomenon.
The company wound up selling an astounding 35.1 million iPhones in its fiscal second quarter. New iPhone launches in Europe and Asia helped boost international sales substantially.
The "new iPad" obviously didn't hurt either. But Apple's domestic business was outshined (best Soundgarden song ever) by its operations around the rest of the planet.
Sales in the Americas did rise a healthy 41% from a year ago. But that was a slightly slower growth rate than the 46% year-over-year increase in Europe. So much for a little debt crisis and recession across much of the continent crimping demand for iPhones and iPads.
Apple did even better in Asia. Japan sales rose 91% from the second quarter of 2011. And the Asia Pacific unit, which includes a little country called China, reported sales growth of 114%.
Investors clearly underestimated the probability of strong sales in Europe and Asia during the past two weeks. Leading up to earnings, Apple's stock fell about 13% from its all-time high and all the talk was about how Apple was succumbing to the effect of seasonality in the U.S.
In other words, Apple was now just another boring, blue chip, dividend-paying consumer stock that wasn't going to do nearly as well after the holidays as it did in October, November and December.
But much in the way that investors have learned to not fight the Fed, it looks like you can't fight Tim Cook and Apple either.
It may sound odd to say that a company that briefly topped $600 billion in market value a few weeks ago is an underdog.
Yet it seems that many investors are ignoring the past decade and are still thinking of Apple as a plucky also-ran in the computer business that was mainly loved by college students and graphics designers. They refuse to believe that Apple has emerged into the global giant that it is.
Heck, I used to be one of those people. I got a lot of angry emails eight years ago for writing the following in a preview of Apple's second quarter 2004 earnings.
"Its market share in the computer business, which still accounts for nearly two-thirds of the company's total sales, remains Hobbit-like small. Apple is clearly an innovative and cool company but in the grand scheme of things, its results are only significant for Mac junkies and/or Apple shareholders."
Oh, how the times have changed. (Although not my geeky love for Tolkien references ... can't wait for first "Hobbit" move this fall!) Apple now only generates 13% of its total sales from the Mac, thanks to the success of iTunes, the iPhone and the iPad. The consumer electronics gadgets have clearly reached a much broader audience than Mac aficionados -- and it is a truly global audience.
In the second quarter of 2002, just a few months after the first iPod was launched, sales from the Americas accounted for nearly half of Apple's total revenue. The same was true five years ago shortly before the iPhone was about to debut.
Now, sales from the Americas represent just a little more than a third of total revenue. And the main reason for Apple's growth seems to be its successful move into China and other emerging markets in Asia.
"There are 230 global carriers and in our view, this simply means that AAPL has moved beyond a U.S. centric story to more of an international one, focused on growth markets like Greater China," wrote Shaw Wu, an analyst with Sterne Agee in San Francisco, in a report Wednesday.
Consider this: the Asia Pacific segment now accounts for more than a quarter of total sales. As recently as the fourth quarter of fiscal 2009, Asia Pacific revenue was still so small that it was being lumped in with the kitchen sink "Other Segments" category in Apple's financial statements.
Apple is now selling the iPhone through China Unicom (CHU) and China Telecom (CHA). And it is still in talks to snare the biggest carrier of them all: China Mobile (CHL).
T. Michael Walkley, an analyst with Canaccord Genuity in Minneapolis, said in a research note Wednesday that management's focus on all the BRIC nations (Brazil, Russia and India as well as China) should enable the company to sell more than 50 million iPhones in the crucial holiday quarter later this year.
At that point, it is widely expected that the iPhone 5, "new iPhone" or whatever Apple decides to call the latest iteration of its smartphone, will be available -- and not just at your local Verizon, AT&T or Sprint (S, Fortune 500) store.
So the next time U.S. investors start myopically worrying about Apple's American sales, remember that there is a much larger planet out there.
Best of StockTwits: If you've made it this far, I suspect you wouldn't mind another heaping slice of Apple pie.
GregorMacdonald: China: The country that brought you an endless supply of cheap labor, will now bring you relentless consumption. $AAPL
It is interesting that Apple has not really been hit that badly by any Foxconn backlash in China.
TheArmoTrader: $AAPL Cook's challenge will come in a few years where any influence left over from Jobs will be completely dried up...
Sure, Apple is probably still working on projects that Jobs directly had a hand in. But isn't the 'Tim isn't Steve' argument growing a bit stale? Disney has made many good movies decades after Walt died.
firstadopter: $AAPL call: 94% of Fortune 500 deploying or testing iPad.
That is more bad news for HP (HPQ, Fortune 500) and Dell (DELL, Fortune 500). Not to mention Research in Motion (RIMM).
fundmyfund: $AAPL has just 8 percent of the global phone market, but makes about 80 percent of the industry's operating profits."
That truly is astonishing. And while I will resist the urge to add to the Apple at $1,000 a share or Apple at $1 trillion market value hype, I do think that Apple definitely has lots more room for growth ahead .. both in earnings and in its stock price.
The opinions expressed in this commentary are solely those of Paul R. La Monica. Other than Time Warner, the parent of CNNMoney, and Abbott Laboratories, La Monica does not own positions in any individual stocks.