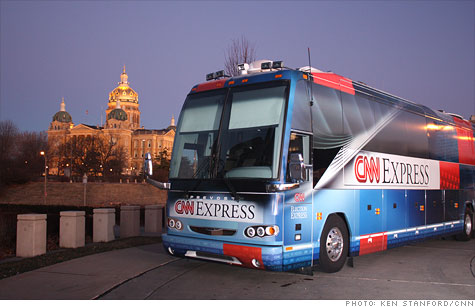 CNN chief business correspondent Ali Velshi finds economic promise as he crosses the U.S.
(Money Magazine) -- Just got off the CNN Express, the mighty bus I ride to some of the less media-saturated parts of America, where concern about gas prices and frustration over Washington's ability to get much done are both running high.
But I've also traveled lately in a different America, where every problem is viewed as an exciting challenge to be overcome, often via a market solution, not a political one. This second America is crucial to helping the one I saw on the bus -- and you may soon get to invest in the effort.
Eyes on the prize
Recently I attended a conference at Singularity University, a three-year-old Silicon Valley institution that facilitates development of advanced technologies.
The program was so intense that the "entertainment" for the event's gala dinner was a demonstration of Ekso Bionic Legs, a lower body "exoskeleton" that supports a paraplegic while moving the user's legs, allowing him to walk independently. It's still early days for the company, and the Ekso's $130,000 price tag will have to come down for it to be widely used.
"We believe we can have an impact on the 70 million people around the world in wheelchairs," says the company's CEO, Eythor Bender.
After that I hit South by Southwest, probably the world's largest "digital fair." The SXSW crowd is mostly college kids or recent grads who arrive in Austin with a big idea and pitch to investors in various venues, including a play on the traditional pub crawl.
Then it was on to an X Prize "Visioneering" weekend. X Prize runs competitions offering big cash awards to teams that invent or improve on systems that meet real-life needs. Last year a startup won for more than tripling the rate at which oil can be recovered from the ocean surface.
Want to be a VC?
Most of the ideas that get kicked around at such confabs never make it to market, but enough do that the entrepreneurs and the venture capitalists keep coming back.
How do you fit in?
As part of the recently passed JOBS Act, Congress expanded the use of "crowd funding." Startups will be able to use web portals overseen by federal regulators to solicit up to $1 million a year in small amounts from lots of people, rather than having to look for a few big fish as securities laws have required.
Yes, there's potential for fraud, but there's also, well, potential.
More: Getting financing for a small business startup
Kickstarter.com has helped thousands of individuals raise money for creative projects. Proponents such as AOL co-founder Steve Case think crowd funding can bring "democratization and access to capital for startups."
Says Case: "Startups disrupt the status quo, creating innovation. Large companies are typically defenders. We need to unleash the attackers in this country so these companies and industries start and grow here." Ultimately, that's how the anxious part of America is going to prosper again.
Ali Velshi is the chief business correspondent for CNN and the host of Your Money.
Do you know a Money Hero? MONEY magazine is celebrating people, both famous and unsung, who have done extraordinary work to improve others' financial well-being. Nominate your Money Hero.