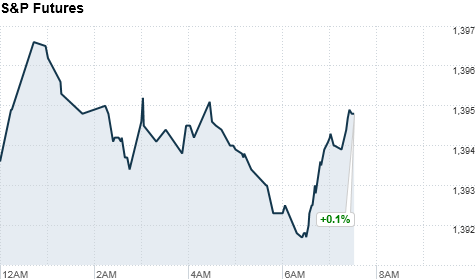 Click on graphic for more premarket data
NEW YORK (CNNMoney) -- U.S. investors were set to hold steady at Tuesday's open, awaiting new reports on manufacturing, auto sales and corporate results for clues about the strength of the U.S. economy.
The Dow Jones industrial average (INDU), S&P 500 (SPX) and Nasdaq (COMP) futures were all little changed. Stock futures indicate the possible direction of the markets when they open at 9:30 a.m. ET.
On tap for Tuesday are new readings on manufacturing, construction spending and auto sales. Investors will be searching for signs to assuage concerns that the recovery in the U.S. economy may be stalling.
The latest round of corporate results include reports from BP (BP) and Pfizer (PFE, Fortune 500).
U.S. stocks finished in the red Monday, ending a mostly sour month on a weak note. Following three months of solid gains, all three major U.S. indexes posted their worst monthly returns of the year in April.
Resurfacing concerns about Europe and a possible hard landing in China have helped put a brake on the momentum from earlier this year.
A report on manufacturing in China rose slightly, which could help allay concerns about the economy slowing too quickly.
Meanwhile, Australia's central bank announced it was cutting its key interest rate by 0.5 percentage point to 3.75%, due to below trend growth both in Australia and globally. It was the bank's biggest rate cut since February 2009, when global financial markets were still in near free fall.
On Monday, Spain's government said its economy declined for the second straight quarter, revealing that the nation is in recession. The report came with Spanish bond yields still at perilously high levels, and just days after Standard and Poor's downgraded the country's credit rating.
World markets: Britain's FTSE 100 (UKX) edged higher 0.4% in midday trading. Markets in Paris and Frankfurt were closed for the May Day holiday.
Japan's Nikkei (N225) ended down 1.8%, while markets in Hong Kong and Shanghai were closed for the holiday.
Economy: The April installment of the Institute for Supply Management manufacturing Index is expected to come in at 53, down from 53.4 in March, according to a survey of analysts by Briefing.com. Any reading above 50 still indicates growth in the sector that has helped to lead the U.S. economic recovery.
April U.S. auto sales are forecast to be up to a seasonally-adjusted annual sales pace of about 14.3 million vehicles. That would be a rise from the year-ago rate of 13.4 million, but down from March sales' pace of 14.7 million.
U.S. automakers General Motors (GM, Fortune 500) and Ford Motor (F, Fortune 500) are both forecast to report lower sales.
March construction spending is expected to have risen by 0.5%, according to economists' estimates.
Companies: Oil company BP posted a drop in quarterly earnings to $1.52 a share from $1.76 a year earlier, missing estimates of analysts surveyed by Thomson Reuters. BP joined Exxon Mobil (XOM, Fortune 500) and ConocoPhillips (COP, Fortune 500) as major oil companies to miss forecasts for the first quarter. Shares of BP lost 2.8% in premarket trading.
Drugmaker Pfizer (PFE, Fortune 500), a Dow component, reported earnings of 58 cents a share for the first quarter, down from 60 cents a share a year earlier but 2 cents better than forecasts. Shares of Pfizer slipped 0.7% in premarket trading.
Delta Air Lines (DAL, Fortune 500) announced plans Monday to purchase an oil refinery outside of Philadelphia, a novel approach to reducing its fuel costs. Shares gained 1.7% in premarket trading.
Currencies and commodities: The dollar lost ground slightly against the euro, but gained on the British pound and Japanese yen.
Oil for June delivery lost 30 cents to $104.57 a barrel.
Gold futures for June delivery fell $1.50 to $1,662.50 an ounce.
Bonds: The price on the benchmark 10-year U.S. Treasury edged higher, but the yield was little changed at 1.91%.