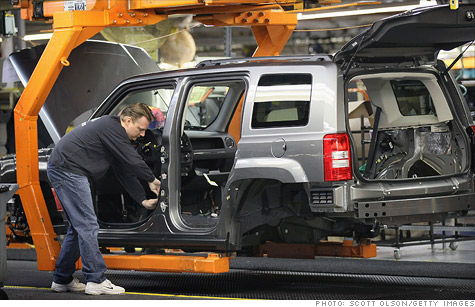 Chrysler forgoes its summer maintenance shutdown at four plants to keep up with surging auto sales.
NEW YORK (CNNMoney) -- Chrysler Group is working through the summer -- forgoing its seasonal maintenance shutdown -- in order to keep up with booming demand, the automaker said on Wednesday.
"In the past, we have shut down for two weeks [in the summer] to do model changeovers and maintenance," said Chrysler spokeswoman Jodi Tinson. "This year, we will not be doing that. They will run through the summer with no down time."
Tinson said the following U.S. plants will continue to work through the summer: the Jefferson North Assembly plant in Detroit, builder of the Dodge Durango and Jeep Grand Cherokee; the Belvidere Assembly Plant in Belvidere, Ill., builder of Dodge Dart, Jeep Compass and Jeep Patriot; and Toledo Supplier Park, maker of the Jeep Wrangler and Wrangler Unlimited.
She also said the Toluca Car Assembly plant in Mexico, builder of the Dodge Journey and Fiat 500, will continue to work without a summer shutdown.
This announcement comes on the heels of Chrysler's best month in four years for automobile sales. Chrysler's sales surged 20% in April, compared to one year ago.
Chrysler also reported that its first quarter produced the company's best profit since 1998.
Industrywide, U.S. auto sales jumped 9% in April. Toyota (TM) enjoyed a 12% sales increase last month, but General Motors (GM, Fortune 500) and Ford (F, Fortune 500) slipped compared to their strong year-ago performances.