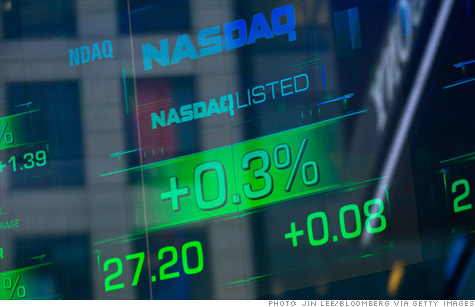 Think prosperity is right around the corner? Look beyond blue chips for a bigger potential gain in small-cap stocks.
(MONEY Magazine) -- If you want to make a big bet on an economic recovery in the U.S., start thinking small. As in small-cap stocks.
The economy is finally adding jobs at a decent clip, which bodes well for stocks in general, but especially for those with stock market values below $3 billion.
Risky? No doubt. Stocks on the Russell 2000 index of small companies trade for about 20 times 2012 earnings forecasts, compared with a P/E of 14 for the S&P 500. But over time, says Nathan Moser of Pax World Small-Cap Fund, "you get compensated [for the risk] with higher returns."
Here are two good reasons to think small-caps belong in your portfolio now.
Growth that's less global
Many U.S. large-cap companies are actually multinational. In this market, that means blue-chip investors have to cope with concerns about Europe's debt crisis, slowing growth in emerging economies, and swings in volatile currency markets.
That doesn't mean blue chips are a bad idea, just that they may frustrate aggressive investors looking to get the most bang out of a U.S. rebound. Small-caps, on the other hand, are far less tied to global macroeconomic trends.
"You don't need to worry about Spanish bond yields and China's gross domestic product," says Eric Marshall, manager of Hodges Small Cap Fund.
Here come the buyers
Chris Colarik, manager of Glenmede Small Cap Equity, notes that many large companies are now flush with cash. That means more smaller companies may be acquired by larger ones looking for new ways to grow their earnings. And that should lift valuations.
Given the added risk, James Kee of South Texas Money Management says investors should have about 10% to 20% of their stockholdings in pint-size stocks. You can build a diversified base with MONEY 70 funds such as Royce Pennsylvania Mutual (PENNX) or, for those who prefer an indexed approach, the Vanguard Small-Cap (VB) exchange-traded fund.
As for individual stocks, Colarik thinks the U.S. rebound should be good news for auto parts retailer Sonic Automotive (SAH, Fortune 500) and supplier Tenneco (TEN, Fortune 500) and aircraft component maker Triumph Group (TGI). All trade at P/Es in the low teens.
Marshall, meanwhile, is bullish on a comeback for heartland consumers. He likes Hibbett Sports (HIBB), a sporting goods chain with a 21 P/E and an expected growth rate of 15% over the next few years. It has built a niche in small towns where it has few competitors, and Marshall thinks it can double the number of stores.
Just remember: These investments make the most sense if you think the recovery is for real.
Do you know a Money Hero? MONEY magazine is celebrating people, both famous and unsung, who have done extraordinary work to improve others' financial well-being. Nominate your Money Hero.