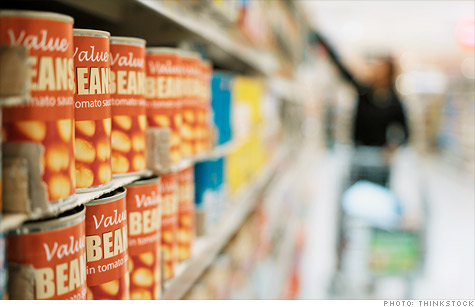 When it comes to shopping and finding the best deals in retail, you'll need to know when to go generic.
(MONEY Magazine) -- Why pay retail? Pay less. Here are five strategies to never have to pay full price again.
Wait it out. "More and more merchants are trying to create a sense of urgency to get you to buy now," says Duquesne marketing professor Audrey Guskey.
Think Groupon-esque daily bargains and flash sales, or one-day sales that tend to happen, well, every week. More often than not, you're not really getting a bargain, says Guskey.
Force yourself to wait a day or a week and you'll likely find that your impulse to buy the unnecessary will subside.
Check the unit price. Packaging has always been the silent salesperson, but now some brands are changing sizes to make it seem as if you're getting a better value, says Christopher Elliott, author of "Scammed."
For example, you may see a $10 18-pack of soap being touted as "50% more" than its competitor's $6 12-pack. But do the math: Yes, the 18-pack is 50% more soap, but you're paying more per bar.
Know when to go generic. Drugs, batteries, canned food -- the store brand is just as good.
Pony up for a name brand only for a category of product where the technology gets better over time, such as disposable razors, says University of North Carolina marketing professor Jan-Benedict Steenkamp.
Check the tech. In the store use RedLaser, a price-comparison app that tells you the cheapest price available online and in brick-and-mortar stores nearby.
At home install InvisibleHand, an add-on for your web browser that scours the web for the best price on any product you're currently shopping for online.
Don't be shy. Ask for a discount on everything, from your Internet service to appliances in chain stores.
Start by putting out an offer; research shows that first movers often come out ahead in a negotiation, because the initial number acts like an anchor, pulling human judgment toward it.
Then don't argue; that'll get your opponent thinking of counterarguments, say researchers in Israel. Let the other party come back with a counteroffer.
Best Deals on Everything:
Best deals on renovating your home
Do you know a Money Hero? MONEY magazine is celebrating people, both famous and unsung, who have done extraordinary work to improve others' financial well-being. Nominate your Money Hero.