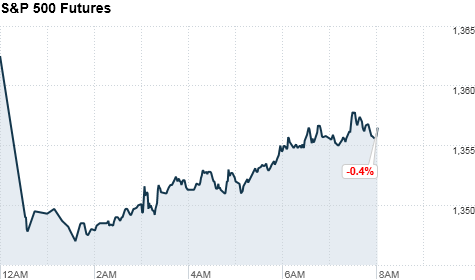 Click on chart to track premarkets
NEW YORK (CNNMoney) -- U.S. stocks were poised to follow world markets lower on concerns about election results in Europe.
The Dow Jones industrial average (INDU), S&P 500 (SPX) and Nasdaq (COMP) futures were lower Monday morning. Stock futures indicate the possible direction of the markets when they open at 9:30 a.m. ET.
World markets were mixed Monday after Socialist Francois Hollande defeated president Nicolas Sarkozy, leaving investors worried about the future of austerity throughout Europe.
"[Markets dropped] because of France," said Anthony Conroy, head trader at BNY ConvergEx Group. "Change breeds nervousness."
Hollande has advocated a shift away from austerity policies to deal with the continent's sovereign debt crisis and advocated for more economic stimulus. But the concern is whether or not such policies will derail previously-announced bailout deals, in which stronger economies such as Germany provide assistance for the weaker economies facing default on their debt.
In Greek elections the two most established parties both lost seats in parliament, leaving no party with anything close the majority of seats needed to form a government. The vote could set the stage for a new round of elections, and prolonged uncertainty for how Greece will comply with terms of the European bailout package.
Marc Chandler, market strategist for Brown Brothers Harriman, said the elections "sparked a quick but dramatic bout of risk-off activity," especially with the Greek stock markets, which fell more than 6%, before recovering.
"The political uncertainty regarding the electoral outcome in France and Greece is resolved, but now the key unknown is the policies of the new governments," wrote Chandler, in a research note.
Little economic data is expected in the U.S. on Monday beyond a report on consumer credit for March.
U.S. stocks sold off Friday, ending the week lower, after the government's April jobs report came in weaker than expected.
World markets: European stocks tumbled in morning trading on election results, though the French exchange managed a slim recovery late in the session. The DAX (DAX) in Germany lost 0.6% but France's CAC 40 (CAC40) rose 0.2%. British markets were closed for a holiday.
Most Asian markets ended even lower. While the Shanghai Composite (SHCOMP) closed unchanged, the Hang Seng (HSI) in Hong Kong lost 2.6% and Japan's Nikkei (N225) dropped 2.8%.
Economy: Analysts surveyed by Briefing.com expect consumer credit to have expanded by $11 billion in March, after an $8.7 billion increase in the month prior.

Companies: In corporate news, DISH Network (DISH, Fortune 500) reported quarterly results Monday morning. The cable television provider announced that net income plunged to $360 million in the first quarter of 2012, compared to $549 million in the year-ago quarter.
Also on tap before the bell, Tyson Foods (TSN, Fortune 500) is expected to post earnings of 39 cents a share on $8.5 billion in revenue, according to a survey of analysts by Thomson Reuters.
Shares of bailed-out insurer AIG (AIG, Fortune 500) fell 4.6% in premarket trading Monday, after the Treasury Department announced that it was planning to sell 163.9 million shares for $30.50 each -- down from Friday's closing price of $32.83.
Dow component Walt Disney (DIS, Fortune 500) was up 0.7% in premarket trading, after its film "The Avengers" smashed opening weekend box office records with $200.3 million in domestic ticket sales. The numbers came in far above the previous record of $169.2 million that had been close to the forecast for its opening weekend.
Currencies and commodities: The dollar was sharply higher against the euro, but was little changed versus the British pound and the Japanese yen.
Oil for June delivery dropped lower below the $100 a barrel mark it breached on Friday, falling 75 cents to $97.74 a barrel.
Gold futures for June delivery fell $7 to 1,638.20 an ounce.
Bonds: The price on the benchmark 10-year U.S. Treasury rose slightly, as investors moved out of European debt and into treasuries, pushing the yield down to 1.86% from 1.88% late Friday.
Are you worried about how the 2012 presidential election will impact your investment portfolio? Which candidate do you think will be better for the stock market? E-mail Hibah.Yousuf@turner.com for the chance to be included in an upcoming story.