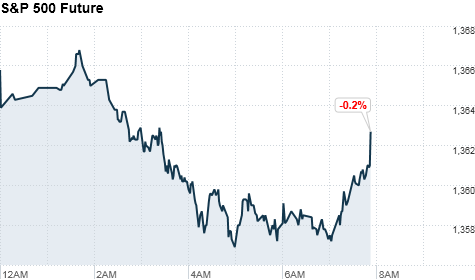 Click on graphic for more premarket data
NEW YORK (CNNMoney) -- U.S. stocks were set to open lower Tuesday as Greece's uncertain political situation keeps investors on edge.
Dow Jones industrial average (INDU), S&P 500 (SPX) and Nasdaq (COMP) futures were all less than 0.5%. Stock futures indicate the possible direction of the markets when they open at 9:30 a.m. ET.
All eyes will continue to be on Europe, a day after Greece's main center-right party failed to form a coalition government. Now, the left-wing coalition, which is opposed to austerity as the way to close Greece's debt gap, will have three days to form a government.
The latest development feeds investors' fears that Greece might have to drop out of the eurozone.
"The political uncertainty in Greece will remain a big issue for some time now," said Jim Reid of Deutsche Bank in a note Tuesday. "Its also inevitable that there will be much debate about Greece's future within the eurozone."
As various parties grapple with forming a coalition government in Greece, it's looking increasingly likely that new elections will need to be held, most likely in mid-June. That throws into question whether Greece will be forced to renegotiate its bailout funding.
Early Tuesday, European Council president Herman Van Rompuy set May 23 as the date for an unscheduled EU summit, announcing on his Twitter feed that it would be an "informal dinner."
U.S. stocks recovered from a shaky start Monday, following elections in France and Greece over the weekend.
World markets: European stocks dropped in morning trading. Britain's FTSE 100 (UKX) was little changed. The DAX (DAX) in Germany shed 0.6%, while France's CAC 40 (CAC40) fell 1.6%.
Both the DAX and CAC rebounded to end Monday higher after initially selling-off in the aftermath of the election.
Asian markets ended mixed. The Shanghai Composite (SHCOMP) slid 0.1% and the Hang Seng (HSI) in Hong Kong lost 0.2%, while Japan's Nikkei (N225) rose 0.7%.
Companies: Shares of fashion accessories maker Fossil (FOSL) plunged 19% in premarket trading after it reported first-quarter revenue that fell short of even the lowest forecasts.
Fast food chain Wendys (WEN) reported operating income of 1 cent a share, falling short of analysts' forecasts for a profit of 3 cents a share. Shares fell 4% in premarket trading.
Shares for Electronic Arts (EA) slipped 3.5% in premarket trading Tuesday, after the video-game maker cut its first-quarter outlook for the period ending in June.
The Government Accountability Office issued a report Tuesday that the U.S. Treasury may eventually turn a $15.1 billion profit on its bailout of insurer AIG (AIG, Fortune 500) when all final payments and asset sales are complete.
McDonald's Corp.'s (MCD, Fortune 500) same store sales increased 3.3%, both globally and in the U.S. market. Sales rose 3.5% in Europe, but only 1.1% in the company's unit that includes Asia-Pacific, Middle East and Africa. Shares fell 2.6% premarket.
In other corporate news, shares DirecTV (DTV, Fortune 500) slipped even as the broadcast satellite provider reported slightly better earnings and sales in line with forecasts.
Entertainment conglomerate and Dow component Walt Disney (DIS, Fortune 500) will report earnings after the close. The studio had a blockbuster weekend with "The Avengers," which broke records with box office sales of $200.3 million during opening weekend, although those sales will not be included in this report, while an estimated $200 million in losses on epic bomb "John Carter" will.
Currencies and commodities: The dollar gained strength against the euro and British pound, but fell versus the Japanese yen.
Oil for June delivery fell 85 cents to $97.09 a barrel.
Gold futures for June delivery dropped $10.30 to $1,628.80 an ounce.
Bonds: The price on the benchmark 10-year U.S. Treasury was little changed Tuesday, leaving the yield at 1.88%.