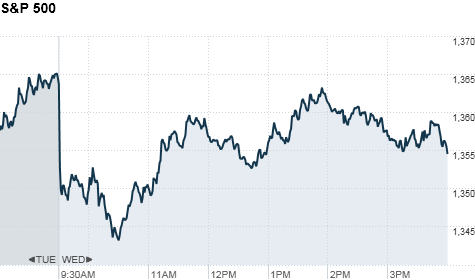 Click chart for more market data.
NEW YORK (CNNMoney) -- U.S. stocks bounced back somewhat from a sharp sell-off Wednesday, but all three major indexes closed in the red as investors continue to fret about Greece and Spain.
Stocks were down sharply at the open, with the Dow, Nasdaq and S&P losing more than 1% before clawing back. Wednesday marked the sixth straight day of losses for the Dow, in which time it has slipped 3.3%.
Traders said there was no single catalyst for the early afternoon rebound. Instead, investors started to sense that the market was oversold in the morning, but wariness over the fiscal and political health of Greece and Spain kept it in negative territory.
Investors have become increasingly concerned that Spain might need to inject public-sector money to save its banks. Yields on Spanish 10-year bonds crossed 6% for the first time in two weeks on Wednesday. Spain's stock market fell to its lowest level since 2003.
Meanwhile, Greece continues to weigh on investors' minds. Elections failed to yield a coalition government, which throws into question whether the nation will be able to meet the requirements needed to secure its next round of bailout funds.
Investors were forced to wrestle with conflicting reports over eurozone countries potentially delaying €5.2 billion in aid.
"We're handicapped by Europe in the U.S.," said Ryan Detrick, senior technical strategist at Schaeffer's Investment Research. "Every day we seem to be getting more reason to realize that Europe's issues are far from being resolved."
With earnings seasons nearly wrapped up and no major economic reports on tap, investors have few reasons to turn away from Europe.
The Dow Jones industrial average (INDU) closed down 97 points, or 0.8%, while the S&P 500 (SPX) shed 9 points, or 0.7%, and the Nasdaq (COMP) sank 12 points, or 0.4%.
On Tuesday U.S. stocks also managed to pare deep losses by the closing bell.
World markets: European stocks ended mixed after an early sell-off. Britain's FTSE 100 (UKX) closed down 0.4% and France's CAC 40 (CAC40) dropped 0.3%, while the DAX (DAX) in Germany closed 0.5% higher.
Asian markets ended lower. The Shanghai Composite (SHCOMP) dropped 1.6%, the Hang Seng (HSI) in Hong Kong slipped 0.7%, and Japan's Nikkei (N225) fell 1.5%.
Companies: Shares of GlaxoSmithKline (GSK) declined Wednesday, after the drugmaker said it is taking its previously announced unsolicited $13-a-share offer for Human Genome Sciences (HGSI) directly to shareholders in a hostile bid.
Shares of Green Mountain Coffee Roasters (GMCR) edged lower, after the company announced late Tuesday that founder and former CEO Robert Stiller had been stripped of his title as chairman for selling more than $125 million worth of Green Mountain stock earlier this week in a margin call.
Shares of AOL (AOL) popped after the web portal posted earnings of 22 cents a share, topping even the most bullish forecasts.
Shares of Walt Disney (DIS, Fortune 500) hit an all-time high after the media company posted strong earnings growth.
Bed Bath & Beyond (BBBY, Fortune 500) agreed to buy Cost Plus (CPWM) for almost $495 million, or $22 per share.
Shares of Macy's (M, Fortune 500) dropped after the retailer failed to boost its forecasts. That caused investors to worry about a slowdown in consumer spending, even after the company's results beat analysts' expectations.
After the close Wednesday, shares of News Corp (NWSA, Fortune 500)., the media company under siege for a phone hacking scandal in Britain, surged after it beat forecasts.
Shares of equipment-maker Cisco Systems (CSCO, Fortune 500) and travel website Priceline.com (PCLN) both fell in after-hours trading when the companies reported earnings after the close.
Shares of video-game developer Take-Two Interactive Software (TTWO) fell Wednesday, after it announced that it would delay the release of a new game from its popular franchise "Bioshock Infinite."
Currencies and commodities: The dollar rose against the euro and British pound, but fell against the Japanese yen.
Oil for June delivery fell 20 cents to $96.81 a barrel.
Gold futures for June delivery tumbled $10.30 to $1,592.20 an ounce.
Bonds: The price on the benchmark 10-year U.S. Treasury rose, pushing the yield down to 1.83% from 1.84% late Tuesday.