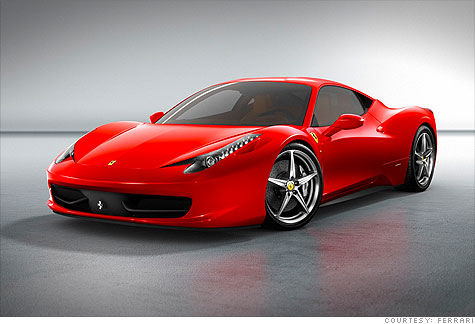 Ferrari is recalling about 200 cars worldwide, including some 458 Italias, like the one shown here, for a crankshaft problem.
NEW YORK (CNNMoney) -- Ferrari plans to recall about 200 cars globally, 100 of which are in the United States, because of malformed crankshafts.
A programming error in the factory caused the crankshafts to be formed incorrectly. The crankshaft is the part connected to the engine's pistons. It spins, turning the pumping motion of the pistons into the rotating motion that is ultimately transferred to the wheels. The error could cause engine vibrations, which might damage the engine, according to Ferrari.
The problem was discovered during routine inspections of one of Ferrari's own fleet vehicles, according to spokeswoman Karen Vonder Meullen. No problems, accidents or injuries have been reported with customers' cars, she said.
The cars to be recalled are Ferrari California and 458 Italia models. Prices for the California, a 453-horsepower convertible with a folding hard top, start at about $190,000. The 570-horsepower 458 starts at about $225,000.
Ferrari is still in the process of filing paperwork with the National Highway Traffic Safety Administration to initiate the recall.
The 458 Italia was also the subject of a recall in 2010 because heat shields could get too close the cars' hot exhaust pipes and begin to burn. About 300 cars were involved in that recall.
Ferrari's sister-company Maserati -- both are part of Italy's Fiat Group -- recalled 763 cars last year to fix a suspension problem.