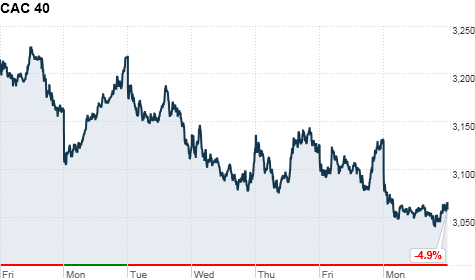 Click on chart to track markets
NEW YORK (CNNMoney) -- European stocks sold off sharply Monday, following yet another failure by Greek politicians to form a coalition government and a disappointing vote in Germany's largest state.
"European officials are talking tough and a Greek euro exit is no longer a taboo topic, but it remains unclear whether this is aimed at 'scaring' the Greeks into voting for the 'right' parties," wrote Investec analyst Elisabeth Afseth in a client note.
London's FTSE 100 (UKX) and the DAX (DAX) in Frankfurt plunged nearly 3%, while the CAC 40 (CAC40) in Paris dropped 2.3%.
Spanish bank stocks were hit hard once again. Banco Santander (STD) fell nearly 3% and Banco Bilbao Vizcaya Argentaria S.A. (BBVA) lost 3.6%.
"We view many Spanish banks as vulnerable to the current recession and ongoing real estate crisis," wrote Moody's analysts in a weekly credit outlook Monday. "We expect problem loans an loan losses to growth further."
Commercial real estate loans are particularly problematic for Spanish banks, said the ratings agency, pointing out that more than half of the banks' exposure was "sub-standard, doubtful or consisted of real estate property acquired from troubled borrowers."
Borrowing costs in Spain soared once again, with the 10-year yield spiking to 6.22%. Italy, also considered vulnerable to possibly needing a bailout, also came under pressure. The yield on the 10-year Italian bond edged up to 5.7%.
Both Spain and Italy held short-term debt auctions Monday that drew lukewarm demand. But even their relatively high yields were downright modest compared to the Greek 10-year bond, whose yields surged above 27%.
Turmoil in Greece, and its tendency to get worse not better, is one of the most troubling aspects of the European economy. The lack of any obvious solution for the nation's beleaguered economy, and the specter of a possible exit from the eurozone, has caused Greece to spread its discord through the rest of the continent.
"Political uncertainly stemming from the outcome of the Greek elections has unsettled the markets," wrote Laurence Boone, in a report that he coauthored with other analysts from Bank of America Merrill Lynch. "The next weeks are crucial for Greece, as political paralysis could threaten the new program, potentially triggering tail risk scenarios that could eventually result in an exit from the euro area."
If Greece exits from the Eurozone, "contagion could follow quickly," spreading through the banking sector and sparking fears of other nations defaulting, wrote Boone.
Meanwhile, elections in Germany's largest state over the weekend dealt a big setback to German Chancellor Angela Merkel's ruling party. While the vote won't change the balance of power, it's a blow to Merkel's leadership.
The yield on the 10-year German bund plunged to 1.45% Monday. In times of trouble, investors flock to the bund, which is considered an oasis of stability for European debt.
"At the moment the primary concern for investors is the return of capital, rather than the return on capital, so as one of the few remaining perceived safe haven assets bunds have benefited," said Investec Bank analyst Brian Barry.
In Asia, markets were mixed after China's central bank moved to lower reserve requirements over the weekend. Lowering the rates means banks will have more funds for investment and growth.
The Hang Seng (HSI) in Hong Kong closed down more than 1%, while Tokyo's Nikkei (N225) managed to gain 0.2%.