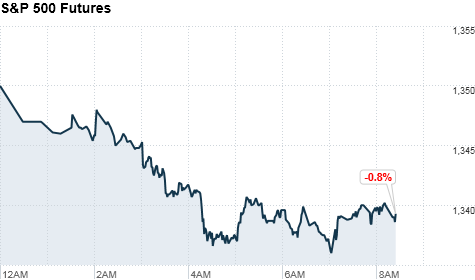 Click on chart to track premarkets
NEW YORK (CNNMoney) -- U.S. stocks could be hurt by new worries about European stability Monday.
Dow Jones industrial average (INDU), S&P 500 (SPX) and Nasdaq (COMP) futures were nearly 1% lower. Stock futures indicate the possible direction of the markets when they open at 9:30 a.m. ET.
Investors will be watching as European finance ministers meet over the next two days. The agenda includes a discussion over raising the profile of growth objectives within Europe, as well as allowing for continued discussion on plans for bank capital rules.
However, investors expect some chatter on Greece, as ministers continue to fret about the threat the debt-ridden country poses to the stability of the region's currency.
Greek politicians continue to try to form a new government after last week's elections, although the leader of the radical leftist Syriza coalition -- the second largest party in Greece -- said he would not attend talks on forming a ruling coalition.
The losses of the previous ruling coalition parties in Greek elections a week ago have raised new doubts about whether Greece, and some of the other weaker economies in Europe, will be able to stay in the eurozone.
Investors made a dash out of debt securities Monday morning, with the yields on 10-year Greek bonds shooting up another 2.56 percentage points to 27.3%.
The yield on the Spanish 10-year bond climbed 0.32 point to 6.33%, raising new worries. Any rate above the 6% benchmark raises the risk that Spain might need a bailout of its own. Also on the rise, Italian bond yields rose 0.24 point to 5.75%.
Meanwhile the German bond yield slipped 0.07 point to a record low of 1.45%, further raising the spread between Germany and the weaker nations' yields.
Investors will also watch Germany after German Prime Minister Angela Merkel's party lost elections in the nation's largest state on Sunday. Merkel is due to face national elections next year.
On the domestic front, investors will continue to pay close attention to the nation's big banks on Monday, after JPMorgan announced a $2 billion loss last week.
JPMorgan (JPM, Fortune 500), which was down 9% Friday, lost another 1% in premarket trading Monday. Fitch Ratings downgraded JPMorgan's debt after the closing bell on Friday, voicing a concern over a "lack of liquidity." Stocks of rival Wall Street firms Morgan Stanley (MS, Fortune 500) and Citigroup (C, Fortune 500) were down more than 1%, while Goldman Sachs (GS, Fortune 500) slid 0.6% in premarket trading Monday, following their 4% losses Friday on the JPMorgan news.
U.S. stocks finished lower Friday and were down for the second straight week.
World markets: Major European stocks were all sharply lower in midday trading. Britain's FTSE 100 (UKX) lost 1.8%, while the DAX (DAX) in Germany tumbled 2.0%, and France's CAC 40 (CAC40) plunged 2.2%.
The Shanghai Composite (SHCOMP) lost 0.6% in trading Monday, while Hang Seng (HSI) in Hong Kong ended down 1.2%. But the Nikkei (N225) in Tokyo finished up 0.2% on the day.
The People's Bank of China took action Saturday to stimulate slowing growth, as it cut the amount of reserves banks are required to hold. The move came the day after economic readings showed inflation, industrial production growth, spending and lending in the world's second-largest economy all slowing.
Companies: Yahoo (YHOO, Fortune 500) CEO Scott Thompson lost his job Sunday, after it was found he padded his resume with an embellished college degree, ending his term at the company after just four months.
The Web portal company also announced it had reached a deal with activist shareholder Dan Loeb, the CEO of Third Point, who had initially disclosed the problems with Thompson's resume, as the company agreed to nominate three of four directors he had put forth for its board. Shares of Yahoo gained 2.7% in premarket trading.
Beauty company Avon Products announced on Sunday that it was considering a buyout offer from Coty Inc. The statement comes after Coty upped its offer last week and Warren Buffett's Berkshire Hathaway (BRKA, Fortune 500) said it would back the purchase. Avon's (AVP, Fortune 500) stock jumped 5% in premarket trading.
Online deal site Groupon (GRPN) will report earnings after the closing bell. In recent months, Groupon has seen accounting problems, shareholder lawsuits and an examination by the Securities and Exchange Commission. Analysts surveyed by Thomson Reuters expect the company will report earnings of 1 cent per share on revenue of $531 million.
Shares of Chesapeake Energy (CHK, Fortune 500) rebounded 5% in premarket trading Monday from their Friday sell-off on news that Chesapeake might have to delay some asset sales, which are necessary to pay down its debt.
After Friday's close, the company announced it had arranged for a $3 billion unsecured loan from Goldman Sachs (GS, Fortune 500) and affiliates of Jefferies Group (JEF). On Monday, the Wall Street Journal reported that activist investor Carl Icahn is expected to reveal he once again has increased his stake in the company to more than 5%.
Currencies and commodities: The dollar was stronger against the euro, but fell versus the Japanese yen and the British pound.
Oil for June delivery lost $2.01 to $94.12 a barrel.
Gold futures for June delivery lost another $22.40 to $1,561.60 an ounce.
Bonds: The price on the benchmark 10-year U.S. Treasury was little changed, leaving the yield hovering at 1.84%.