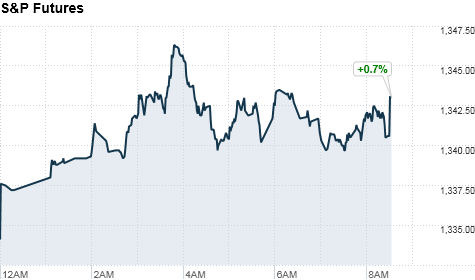 Click on chart to track premarkets
NEW YORK (CNNMoney) -- U.S. stocks were poised for a positive start Tuesday, following better-than-expected economic growth in Germany.
The Dow Jones industrial average (INDU), S&P 500 (SPX) and Nasdaq (COMP) futures were up more than 0.5% ahead of the opening bell. Stock futures indicate the possible direction of the markets when they open at 9:30 a.m. ET.
Reports on retail sales and inflation for April were close to expectations. Retail sales edged up 0.2% last month, matching the forecast from a survey of analysts by Briefing.com, after increasing by 0.8% in March.
The Consumer Price Index was flat in April, as expected, after rising by 0.3% in March.
Futures got a slight lift from these reports, but most of their gains were already in place from positive economic news coming out of Europe.
German economic growth came in at 0.5% in the first quarter. That's far better than the 0.2% decline in gross domestic product at the end of last year that had raised fears of Europe's largest economy possibly falling into recession.
German growth also helped other European countries avoid recession, lifting the reading for all of the European Union to 0.1%, and leaving GDP unchanged in the 17-nation eurozone.
There had been fears that both the EU and eurozone would report their second straight quarter of declining GDP, the common benchmark for an economy in recession. By that standard, 12 of the nations in the EU are now mired in an economic downturn.
Still, anxieties over Europe continue to loom large this week. European finance ministers are winding up a two-day meeting Tuesday and newly-elected French President François Hollande is set to meet with German Prime Minister Angela Merkel immediately after Tuesday's swearing-in ceremony.
After weeks in which it appeared the worst of the debt crisis was over, a political gridlock in Greece has re-ignited fears that the country could exit the euro and imperil Europe's periphery in the process.
Late Monday, Moody's downgraded 26 Italian banks between one to four notches, saying, "the potential for further rating transition is heightened by the possibility of rapid increases in problem loans."
Concerns about the stability of the financial system have resurfaced since JPMorgan (JPM, Fortune 500) revealed a $2 billion trading loss last week. That loss is sure to be high on the agenda during the bank's shareholder meeting Tuesday morning.
U.S. stocks fell Monday amid worries about the stability of the eurozone and the safety of the U.S. banking sector.
World markets: European stocks were mostly higher in morning trading. Britain's FTSE 100 (UKX) was flat, France's CAC 40 (CAC40) was up 0.6% and the DAX (DAX) in Germany rose 0.3%.
Asian markets ended mixed, with the Shanghai Composite (SHCOMP) closing off 0.3%, the Hang Seng (HSI) in Hong Kong up 0.8%, but Japan's Nikkei (N225) down 0.8% at the close.
Companies: Avon Products (AVP, Fortune 500) said that Coty has withdrawn its bid for the company, less than a week after it had upped its offer with backing from Warren Buffett's Berkshire Hathaway (BRKA, Fortune 500). Avon's board had said it wanted a week to consider the latest offer but Coty had demanded an immediate answer. Shares of Avon fell 14% in premarket trading.
Dow component Home Depot (HD, Fortune 500), a bellwether of activity in the nation's troubled home building industry, reported quarterly earnings in-line with estimates but issued an earnings forecasts that fell short. The stock dipped 3% in premarket trading.
Apparel retailer TJX (TJX, Fortune 500) is also expected to report improved quarterly earnings of 54 cents a share on $5.7 5 billion in revenue.
Shares of daily deals site Groupon (GRPN) surged 23% in premarket trading Tuesday after gaining 19% during the trading day on Monday. The company reported narrowing losses and better-than-expected sales Monday, giving investors hope that it can steady its ship.
Upstart wireless carrier LightSquared filed for bankruptcy Monday after failing to reach a deal with its creditors.
Currencies and commodities: The dollar was lower against the euro, but higher versus the British pound and the Japanese yen.
Oil for June delivery rose 61 cents to $95.39 a barrel.
Gold futures for June delivery gained $1.50 to $1,562.50 an ounce.
Bonds: The price on the benchmark 10-year U.S. Treasury edged lower, boosting the yield to 1.79%.
Are you worried about how the 2012 presidential election will impact your investment portfolio? Which candidate do you think will be better for the stock market? E-mail Hibah.Yousuf@turner.com for the chance to be included in an upcoming story.