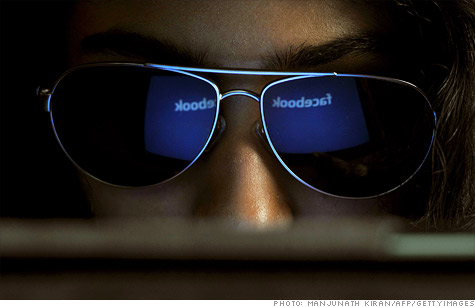 (Money Magazine) -- How and when can small investors buy Facebook stock? -- K.R., Green Valley, Ariz.
Assuming the much-ballyhooed initial public offering of Facebook comes off later this week, you should have no trouble getting Facebook shares. However, it's highly unlikely you'll be able to get them at the favorable initial offering price.
As soon as the IPO is completed and shares begin trading, you'll be able to buy them at the market price through any brokerage firm. The more important question, though, is should individual investors be buying Facebook stock? I say the answer is no, with a few exceptions.
If the value of the shares you intend to buy represents only a tiny portion of an otherwise broadly-diversified portfolio -- or you're investing a sum that's not really meaningful to you -- I suppose I could see taking a flier on Facebook.
Or, if Facebook eventually becomes part of a broad benchmark like the Dow Jones U.S. Total Stock Market Index (DWCF) -- as Google (GOOG, Fortune 500) did about a month after its IPO in 2004 -- I'd have no problem with individual investors owning Facebook shares within an index fund or ETF that tracks the index.
Otherwise, I think you're better off just watching the whole Facebook frenzy from afar.
One reason is that I don't place a great deal of trust in the IPO system as practiced on Wall Street these days. Shares are doled out to investment banks, institutional investors and big customers by some brokerage firms at the initial offering price, which is set by the underwriters before the stock is available to the public. (In this case, that price is expected to be between $34 and $38 a share). But with rare exceptions, individual investors can't buy at that price. They buy at the market price once the company's shares start to trade publicly.
And in highly anticipated IPOs, it's not uncommon for the market price to skyrocket as small investors and others shut out of the initial offering scramble for shares. The result is that smaller investors often pay a huge premium over the offering price, making them vulnerable if shares subsequently sink but almost assuring a profit to the privileged investors who got in early.
The whole process is so choreographed and ripe for potential abuse that I think small investors should just steer clear of IPOs, especially hot ones, at least until the hysteria dies down and share prices reflect fundamentals more than raw emotion.
But there's another compelling reason I think small investors should pass on Facebook, at least for now: there's just too much uncertainty surrounding the stock's potential.
Even if you think Facebook is a truly transformative company and you passionately believe in the company culture that founder Mark Zuckerberg refers to as "the Hacker Way," the central issue from an investing standpoint is whether the company can generate enough revenue and profits to justify the price you end up paying for your shares.
That can be a tough call with any company. But it's even tougher when you're dealing with a young company that's still trying to find a way to effectively "monetize" its 901 million active monthly users, not to mention one that operates in the fast-moving tech world where today's leader can be tomorrow's laggard (see Yahoo). Throw in the euphoria that often surrounds a much-hyped IPO and I think investors who jump in quickly run a big risk of overpaying.
That's not to say that buying Facebook shares might not pay off big time. Investors who got into Google (GOOG, Fortune 500) in the wake of its IPO have done splendidly. But we tend to think less about the companies that struggle after going public (Groupon (GRPN) is down roughly 60% from its first-trading-day high of $31) and we often forget about those that simply crashed and died. (Remember 2000, when the Internet bubble burst?)
Buying into Facebook now is as much an act of faith as a rational investing decision based on the numbers. That's no way to invest retirement savings or any other money you're really counting on for financial security.
But if you're willing to incur the risk and uncertainty for the possibility of a big gain -- or you just want to gamble with a little mad money -- fine. But even then, I think you should first take a gander at Facebook's registration statement -- and especially the Risk Factors section -- so you have a better sense of what you're getting into.
And if you find this document is simply too dense to wade through, maybe that's a sign you should pass on buying Facebook now after all, and instead opt for a small piece when it becomes part of an index fund or ETF.
MONEY magazine is celebrating people, both famous and unsung, who have done extraordinary work to improve others' financial well-being. Send an email to nominate your Money Hero.