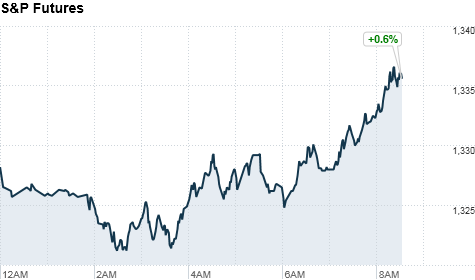 Click on chart to track premarkets
NEW YORK (CNNMoney) -- U.S. stocks were set for a higher open Wednesday, as investors weigh political uncertainty in Greece against mixed earnings reports and housing data.
Dow Jones industrial average (INDU), S&P 500 (SPX) and Nasdaq (COMP) futures were slightly higher. Stock futures indicate the possible direction of the markets when they open at 9:30 a.m. ET.
After politicians in Greece failed to agree on a coalition government, President Karolos Papoulias called for all parties to meet Wednesday to set up a caretaker government that will conduct new elections. The instability in Athens raised questions as to whether the country would be forced to leave the eurozone and what such a move would mean for other troubled European economies.
"Greece will hold fresh elections in June, negotiations to form a government based on this month's election results having officially failed," wrote Investec analysts Elisabeth Afseth and Brian Barry. "It should come as no surprise, but markets nevertheless took a turn for the worse on the announcement."
U.S. stocks closed at three-month lows Tuesday as the eurozone debt crisis continued to take a toll on the markets.
Bond yields dipped in Italy and Spain. The average yield for 10-year Italian bonds slipped to 5.8%, and the 10-year yield for Spanish bonds fell to 6.25%.
World markets: European stocks were mixed in midday trading. Britain's FTSE 100 (UKX) fell by less than 0.1%, while the DAX (DAX) in Germany added 0.2% and France's CAC 40 (CAC40) rose 0.7%.
Asian markets ended lower. The Shanghai Composite (SHCOMP) fell 1.2% and Japan's Nikkei (N225) dropped 1.1%, while the Hang Seng (HSI) in Hong Kong plunged 3.2%.
Economy: Investors showed little reaction to mixed reports on the housing market before the opening bell Wednesday.
Housing starts jumped to an annual rate of 717,000 in April, from the revised level of 699,000 in March. Analysts surveyed by Briefing.com had expected a rate of 680,000.
Meanwhile, building permits fell to an annual rate of 715,000 in April, from the revised figure of 769,000 in March. Analysts expected permits to fall to 730,000.
The Fed's reading on activity at the nation's factory is due at 9:15 a.m. ET, with economists forecasting that industrial production rose 0.5% in April after being unchanged the previous month.
The latest report on crude inventories will be released at 10:30 a.m. ET, and minutes from the April meeting of the Federal Open Market Committee will be issued at 2:00 p.m. ET.
Companies: Facebook boosted the size of its IPO by 25%, seeking to raise up to $16 billion, according to an SEC filing.
Shares of retailer JC Penney (JCP, Fortune 500) tumbled 15% in premarket trading, after it reported a much bigger than expected 39 cent a share loss for the most recent quarter -- far worse than the 11 cent loss forecast by analysts surveyed by Thomson Reuters, or the 30 cents a share profit it made a year earlier. The company also discontinued its dividend.
Office supply company Staples (SPLS, Fortune 500) reported earnings of 30 cents per share, excluding a 3 cent a share charge for staff cuts. That's up from 28 cents a share a year earlier, and matched analysts' forecasts. Still shares slipped 2.6% in premarket trading on an unexpected 1% drop in revenue.
Shares of Deere & Co. (DE, Fortune 500) rose 1.5% in premarket, after the company beat expectations on its quarterly results and raised its forecast. The company reported earnings of $2.61 per share, compared to the consensus expectations of $2.54, and boosted its full-year earnings forecast to $3.35 billion.
Target Corp. (TGT, Fortune 500) also beat expectations and increased its forecast, pushing shares up by 2% ahead of the bell Wednesday. The company reported earnings of $1.04 per share, compared to the consensus expectations of $1.01. The company raised its full-year guidance by 5 cents, to an adjusted EPS range of $4.60 to $4.80.
JPMorgan Chase (JPM, Fortune 500) shares edged higher Tuesday as the bank held its annual shareholder meeting in Tampa, Fla. The stock is down more than 12% over the previous five trading sessions, but shares rose 1.4% in premarket trading on Wednesday.
Shareholders approved pay packages for the bank's top executive, and affirmed their wishes to keep Jamie Dimon in the dual role of chairman and CEO.
And according to documents filed with the SEC, Warren Buffett's Berkshire Hathaway (BRKA, Fortune 500) built new positions in General Motors (GM, Fortune 500) and Viacom (VIA) during the first three months of 2012.
The investment fund now holds holds roughly 10 million shares in General Motors and 1.6 million shares of Viacom. Shares of GM climbed 3.7% in premarket trading on the news, while Viacom shares edged up 0.7%. GM rival Ford Motor (F, Fortune 500) also gained 1.5% in premarket trading on Buffett's vote of confidence in the auto sector.
Currencies and commodities: The dollar dipped against the euro, but gained strength against the British pound and Japanese yen.
Oil for June delivery fell $1.10 to $92.98 a barrel.
Gold futures for June delivery lost $16.80 to $1,540.30 an ounce.
Bonds: The price on the benchmark 10-year U.S. Treasury edged higher, pushing the yield down to 1.78% from 1.79% late Tuesday.