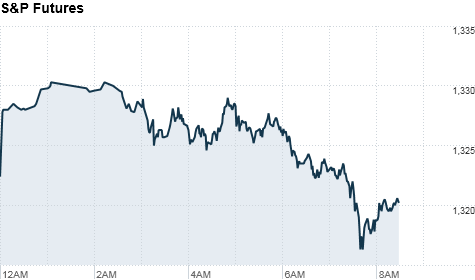 Click on chart to track premarkets
NEW YORK (CNNMoney) -- U.S. stock futures hovered around breakeven Thursday morning, as investors mull worries about Greece ahead of the final pricing for Facebook's initial public offering.
Dow Jones industrial average (INDU), S&P 500 (SPX) and Nasdaq (COMP) futures were unchanged. Stock futures indicate the possible direction of the markets when they open at 9:30 a.m. ET.
Stocks declined for a fourth straight session on Wednesday, as positive economic data in the U.S. failed to counter increasing pessimism over Greece's fiscal woes.
European leaders voiced support Wednesday for keeping Greece in the eurozone, but cautioned the debt-ridden country must stick with unpopular austerity measures if Greece is going to continue to receive help. A new vote is set for Wednesday June 17.
Meanwhile, the Greek population is responding to the crisis by making massive withdrawals from banks due to fears they could have their savings converted to a devaluated currency should Greece be forced to drop the euro.
Investors remain worried what a Greek exit from the eurozone would mean for broader financial system in both Europe and around the globe.
But while European worries have dogged U.S. markets in recent days, investors here were eyeing news closer to home early Thursday.
Among the items getting attention was stronger-than-expected quarterly earnings and sales from Wal-Mart (WMT, Fortune 500), the nation's largest retailer, which lifted shares of the Dow component in premarket trading.
World markets: European stocks slid in midday trading. Britain's FTSE 100 (UKX) lost 1.3%, while the DAX (DAX) in Germany slipped 0.9% and France's CAC 40 (CAC40) fell 1.2%.
Most Asian markets ended higher following a report that showed the Japanese economy grew at 1% in the first quarter, which was much better than forecasts. Tokyo's Nikkei (N225) gained 0.9% on the news, while the Shanghai Composite (SHCOMP) rose 1.4%. Hong Kong's Hang Seng (HSI) slipped 0.3%.
Economy: Investors showed little reaction to new labor market data Thursday morning.
Initial jobless claims were unchanged in the week ended May 12 from the revised figure of 370,000. The number came in weaker than expected.
Foreclosures fell for the third straight month in April, reaching the lowest level since 2007, according to tracking service RealtyTrac.
Later Thursday morning the Philadelphia Fed will release a report on manufacturing.
Companies: Wal-Mart reported quarterly earnings per share of $1.09, up from 98 cents a share a year earlier. The result topped both the company's guidance range and the consensus estimate of $1.04 a share from analysts surveyed by Thomson Reuters.
Same-store sales also surpassed the upper end of the company's guidance, and overall revenue rose nearly 9% to $103.4 billion, topping forecasts. Shares gained 2% in premarket trading.
Wal-Mart rival Sears Holdings (SHLD, Fortune 500) also reported a net income after a net loss a year ago, as its operating loss came in much smaller than expected. The retailer also announced it was looking at a partial spin-off of its Canadian operations. Shares edged slightly higher in premarket trading.
Other retailers due to report results Thursday include Gap (GPS, Fortune 500) and Aeropostale (ARO), both due to report after the closing bell.
Also due after the close is Applied Materials (AMAT, Fortune 500), the manufacturer of chipmaking equipment, whose earnings are forecast to decline.
But the big tech news after the close will come from Facebook (FB), which is expected to price its initial public offering. Trading would begin Friday.
The social networking site upped the target price range for its stock earlier this week to between $34 and $38 per share. It announced Wednesday that 25% more shares of the company will be sold than previously announced.
The additional shares, disclosed in a filing with the Securities and Exchange Commission, could fetch an extra $3 billion -- bringing the total raised through Facebook's offering to as much as $16 billion, making it the most valuable tech IPO in history.
Shares of JPMorgan Chase (JPM, Fortune 500) dropped another 2% on Wednesday, after the director of the FBI confirmed his agency had launched an initial investigation into a $2 billion trading loss suffered by the bank. Shares were down another 1.3% in premarket trading Thursday.
Currencies and commodities: The dollar fell slightly against the Japanese yen, but edged higher against the euro and British pound.
Oil for June delivery edged up 59 cents to $93.40 a barrel.
Gold futures for June delivery rose $16.30 to $1,555.29 an ounce.
Bonds: The price on the benchmark 10-year U.S. Treasury rose slightly, but that left the yield at the 1.76% level reached late Wednesday.