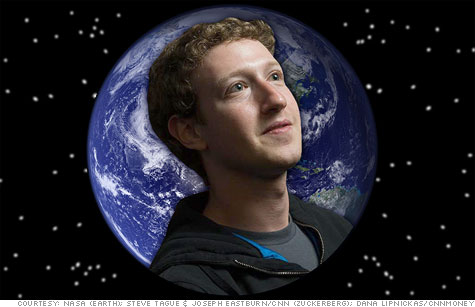 It may seem like Facebook and CEO Mark Zuckerberg are poised to take over the world. But some investors outside the U.S. say they aren't that excited about the IPO.
NEW YORK (CNNMoney) -- Facebook. Facebook. Facebook. Facebook.
In the United States, it seems like the social network's initial public offering is all that any investor wants to talk about. It's like the scene in "Being John Malkovich" where Malkovich goes through the secret portal and finds that everyone has his face and just repeats his name over and over again.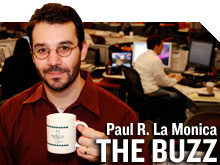 But we're all Being Mark Zuckerberg. And instead of the New Jersey Turnpike, the Zuckerberg portal probably dumps you outside of Facebook's Menlo Park, Calif. headquarters. In the middle of an all-night hackathon no doubt.
Senior citizens are itching to get in on the IPO. Facebook has allocated some shares to online brokerage E*Trade, a sign that it realizes there is strong demand from the huddled masses. Heck, CNNMoney is even trying to buy some shares. (We only plan to hold the stock for a week and if we have any gains, we are donating them to charity.)
However, interest in Facebook's IPO in other parts of the world doesn't appear to be as strong as it is in the U.S. That's somewhat surprising given that the majority of Facebook's users actually hail from outside North America.
Facebook (FB) has 188 million active users in the U.S. and Canada, about 21% of its 901 million users around the world.
It appears that Facebook is counting on strong demand for its IPO from at least one international market: Brazil. Despite competition from Google-owned Orkut, Facebook has been doing extremely well there. Facebook now has 45 million users in Brazil, up 180% from a year ago.
And Facebook interestingly named Itaú BBA USA Securities, the U.S. subsidiary of Brazilian bank Itaú BBA, as one of the 33 underwriters for the stock earlier this month.
But in Europe and Asia, Facebook's IPO isn't being treated like the Super Bowl of market events ... or to be true to the global theme, I should probably say the World Cup of market events.
"Facebook is the dominant social network in Europe without a doubt. But there isn't a super frenzy here about the IPO. That seems to be a U.S. phenomenon at the moment," said Tim Jenkinson, a professor of finance at the University of Oxford's Saïd Business School in the United Kingdom.
Jenkinson said that the interest in Facebook appears to pale in comparison to the last truly groundbreaking Internet IPO.
"Google had a lot more attention over in Europe because they encouraged more retail investors to participate. So it was easier to buy that IPO," he said.
When Google (GOOG, Fortune 500) went public in 2004, it used a so-called Dutch auction to determine the price of the shares. Through that process, many more average investors were able to bid for and receive shares of the stock before it started trading.
There's also the fact that Europeans are dealing with a nasty little debt crisis that is in the headlines every now and then. So they might have more important things to be worrying about than whether or not they can help Zuckerberg and Sheryl Sandberg become gajillionaires.
"In the current environment, European investors are extremely cautious," said Neil Campbell, head of alternative investment with Tullett Prebon, a brokerage firm in London.
Campbell added that some larger European investors who may already have stakes in Facebook through earlier stages of financing are "expressing interest in reducing exposure, especially if the IPO is priced at the higher end of the valuation."
Investing experts in Asia also indicated that demand for Facebook is not at a fever pitch.
"The Facebook IPO may be like Beatlemania in North America. But it seems like there is lackluster interest in Asia," said Peter Pham, who runs AlphaVN.com, a research and trading site in Ho Chi Minh City, Vietnam that focuses on emerging Asian markets.
One problem, if you will, is that Facebook's plans for China are not yet clear. The company currently does not operate there.
Pham said that because of that, many Asian investors prefer to have exposure to Chinese Internet leaders like search engine Baidu (BIDU), social network Renren (RENN), online gaming company Tencent and Sina (SINA), which operates the Twitter-like microblogging service Weibo. He added that there are also concerns about valuation.
"The general feedback I get from talking to investors in Japan, Hong Kong and Singapore is that there seems to be a perception that Facebook may be too expensive," Pham said.
Asian investors can also be forgiven if bigger picture concerns like worries about whether China's economy is heading for a hard landing are distracting them from "liking" or "friending" Facebook.
"Asia is much more focused on its own issues, primarily evidence of China's slowdown," said Robert Howe, CEO of Geomatrix, an Asia-focused hedge fund based in Hong Kong. "Yes, there is interest -- just not the obsessive, feels-like-a-market-top interest we are seeing in the U.S."
Best of StockTwits: As stunning as this may sound, there are some already public companies making news too.
firstadopter: $WMT call: customers "still trading down to lower price points and smaller pack sizes" Q2 overall economy "still our customers main concern"
Wal-Mart (WMT, Fortune 500) had a nice quarter. It's up 5% today as a result. I discussed that in today's Buzz video. Seems like a sluggish economy is good news for them and fellow discount retailer Target (TGT, Fortune 500).
bradloncar: The way $HLF has traded during this whole Einhorn drama definitely puts the efficient market theory to shame.
RonReuven: Einhorn is also a poker player, asking a question on $HLF cc was guarantee that he wont mention it again. never show ur hand.
Nutritional supplement company Herbalife (HLF) was rocked a few weeks ago after noted short seller David Einhorn asked some probing questions about the business on an earnings conference call. But at Wednesday's Ira Sohn conference, kind of like the Woodstock for hedge fund managers, Einhorn didn't mention the company once. And that pushed the stock dramatically higher.
Einhorn may in fact be playing his cards close to his vest. But the movement in Herbalife over the past few weeks is a sobering reminder to all that Wall Street can be nothing more than a glorified casino.
Facebook will learn that soon enough.
The opinions expressed in this commentary are solely those of Paul R. La Monica. Other than Time Warner, the parent of CNNMoney, and Abbott Laboratories, La Monica does not own positions in any individual stocks.