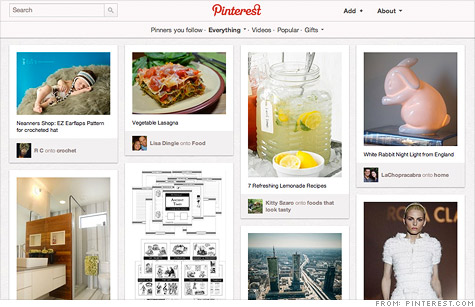 NEW YORK (CNNMoney) -- Hot social network Pinterest just landed a sizable cash infusion: The company raised $100 million in a financing round by e-commerce giant Rakuten. Existing investors Andreessen Horowitz, Bessemer Venture Partners and FirstMark Capital also participated in the round.
The latest funding from the Tokyo-based Rakuten values Pinterest at $1.5 billion, according to a source close to the company.
"While some may see e-commerce as a straightforward vending machine-like experience, we believe it is a living process where both retailers and consumers can communicate, discover, and curate to make the experience more entertaining," Rakuten CEO Hiroshi Mikitani said in a press release.
It's a strategic move for Pinterest, which said it will use the funding to continue branching out globally.
"The investment also marks the start of a strategic partnership between Rakuten and Pinterest to help expand in Japan and into Rakuten's 17 other global markets," the companies said in the release.
Palo Alto, Calif-based Pinterest, which allows users to create a virtual pinboard showcasing items they find around the Web, has over 18 million active users. Previous backing includes $37 million from tech heavyweights SV Angel and Highline Venture Partners.
Neel Grover, CEO of Rakuten subsidiary Buy.com, told CNNMoney that discussions have been in the works for a couple months.
"We reached out several months ago and had some discussions on how we thought the world similarly," he said. "Pinterest needs a way to accelerate their user base and build on their company. With Rakuten's global presence and large market places, we think there's a lot we can do with e-commerce long term."