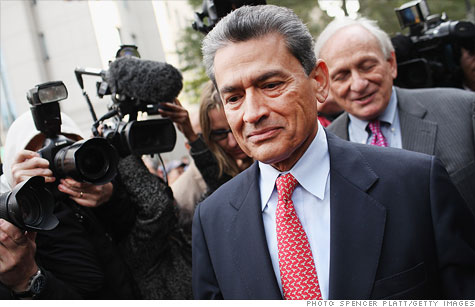 Rajat Gupta leaves a Manhattan court after he surrendered to federal authorities in New York last October.
NEW YORK (CNNMoney) -- Rajat Gupta was once a board member at Goldman Sachs and managing director of consulting giant McKinsey & Co. Now, he's the biggest target yet in the government's sprawling insider trading crackdown.
Gupta will face trial in New York Monday in a case that will feature evidence from the highest levels of Corporate America. On the list of potential witnesses are investment guru Warren Buffett, celebrity analyst Meredith Whitney, Goldman (GS, Fortune 500) CEO Lloyd Blankfein and HP (HPQ, Fortune 500) CEO Meg Whitman.
"This is such a high-profile individual," said Jeff Ifrah, a white-collar defense lawyer based in Washington, DC. "To the extent that anyone wasn't aware before that the government was taking this stuff seriously, it's kind of hard to believe that they wouldn't be now."
The case is part of a wave of insider trading probes over the past two-and-a-half years that have yielded 66 indictments and 59 convictions. None of these defendants have been acquitted so far, though several cases are still pending.
Dubbed "Operation Perfect Hedge," the effort has utilized investigative tools like wiretaps and informants that are more commonly associated with other kinds of crime.
Wiretaps were first used to target insider trading in the case of Raj Rajaratnam, the manager of hedge fund Galleon who received a record 11 years in prison last year after earning $64 million in a long-running insider trading scheme.
Gupta is accused of passing inside information to Rajaratnam about Goldman and Procter & Gamble (PG, Fortune 500), where he was also a director. He faces five counts of securities fraud that carry maximum sentences of 20 years each, as well as one count of conspiracy that carries a five-year maximum.
Prosecutors say that in one instance in the fall of 2008, Gupta called Rajaratnam just 16 seconds after disconnecting from a conference call in which Goldman's board approved a crucial $5 billion investment from Warren Buffett's Berkshire Hathaway.
Minutes later, Galleon purchased $27 million worth of Goldman stock. In a conversation the next morning that was recorded secretly by the FBI, Rajaratnam told an associate that he had received a phone call ahead of the share purchase saying "something good might happen to Goldman."
When Goldman's shares jumped later that day on news of Buffett's investment, Galleon sold them at a profit of $840,000.
Rajaratnam, now serving his jail sentence, is also on the list of potential witnesses for Gupta's trial. The government says Gupta maintained a number of investments with Rajaratnam.
Gupta's lawyers did not respond to requests for comment, though they are fighting the charges and have previously called the government's case "totally baseless."
Gupta "did not trade in any securities, did not tip Mr. Rajaratnam so he could trade, and did not share in any profits as part of any quid pro quo," lawyer Gary Naftalis said following last fall's indictment.
A number of pre-trial hearings have been held already, though the trial itself is not expected to take more than a few weeks. Whatever the result, executives across the country will surely be paying attention.