Although Yahoo's stock has rebounded off its lows, shares of the troubled Internet company are still down year-to-date and lagging the broader tech stock rally.
NEW YORK (CNNMoney) -- When Yahoo decided to sue Facebook for patent infringement a few months ago, many tech watchers felt that this was a desperate act by a company whose best days were long behind it.
And now? Well, Yahoo's lawsuit against Facebook (FB) stills seem a bit curious, given that most tech companies are busy buying and selling patents instead of going to court over them.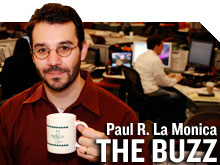 But all of a sudden, Yahoo (YHOO, Fortune 500) is a company that, dare I say it, has a little bit of momentum. Meanwhile, Facebook's newly public stock is taking it on the chin.
Shares of Yahoo rose 3.6% on Facebook Friday due to speculation that the long-suffering Internet company was finally set to unveil some sort of arrangement to sell a portion of its lucrative Asian investments.
Yahoo gained another 1% on Monday after the deal was official. Yahoo is selling half of its 40% stake in Chinese Internet conglomerate Alibaba Group back to Alibaba for $7.1 billion.
The announcement caps off a tumultuous week for Yahoo.
The company announced on May 13 that Scott Thompson was stepping down as CEO after activist shareholder Dan Loeb of Third Point brought to light the fact that Thompson's bio in SEC filings included references to a college degree that Thompson didn't have. Yahoo named veteran executive Ross Levinsohn as interim CEO.
Thompson had only been with Yahoo since January. The former head of eBay (EBAY, Fortune 500) subsidiary PayPal replaced Carol Bartz, who was fired last September ... in part because she was unable to nail down a deal with Alibaba's CEO Jack Ma.
So has Yahoo finally turned a corner? The stock is still down year-to-date, but it is much closer to its 52-week high than its 52-week low. And for now at least, two big anchors on the stock -- the Thompson scandal and questions about what to do with the Alibaba stake -- have been resolved in a favorable fashion.
Still, this wouldn't be a story about Yahoo if it was all raindrops on roses and whiskers on kittens. Analysts remain wary of Yahoo with good reason.
Levinsohn is widely respected in the industry. But he's more of a media and advertising guy, and it's not clear if that's the direction Yahoo should still be going in as a company. After all, Thompson was hired to help turn Yahoo into more of a commerce play.
And even though Facebook's IPO has been a nightmare for investors, there is no denying that Yahoo faces a serious threat from the social network, as well as Google (GOOG, Fortune 500), in the online ad market.
"Levinsohn has the right credentials for the job, but it's still early and I think Yahoo knows that," said Ronald Josey, an analyst with ThinkEquity in New York.
Josey said that it's good to get some closure with Alibaba, but that Yahoo has to do more than just sell assets.
"I am looking for more growth in display advertising. Right now, I am more focused on the fundamentals than financial engineering," he said.
Sure, divesting a portion of the Alibaba stake to raise cash will help. But what will Yahoo do with the money?
For now, it looks like it may be hoping to appease short-term investors as opposed to investing for the long-term.
Yahoo said in a statement announcing the Alibaba deal Sunday that it was increasing its current share buyback program by $5 billion. Yahoo CFO Tim Morse (who himself was interim CEO after Bartz was fired and before Thompson was hired) added that the company was looking forward to returning virtually all of the after-tax proceeds of the Alibaba transaction to shareholders in some form.
That news didn't sit well with Martin Pyykkonen, an analyst with Janco Partners in Denver.
"Yahoo is a company that still has lots of challenges. It's lost relevance in online advertising," he said. "It's disappointing that they may not use much of the capital to reinvest in the business."
The bottom line for Yahoo is that it still needs to figure out what it wants to be. Until it does, revenue growth may be sluggish at best. Analysts are forecasting a sales increase of only 2% this year and 3% in 2013.
Profits are likely to increase at a faster clip, but cost-cutting has been the story at Yahoo for a long time. While the stock may look cheap, trading at only about 16 times 2012 earnings estimates, it actually is more expensive than other tech titans that don't have all of Yahoo's baggage, such as Apple (AAPL, Fortune 500), Google and Yahoo search partner Microsoft (MSFT, Fortune 500).
Yahoo is a company that is now on its seventh CEO since 2001. Yahoo has been a turnaround story for a long time. You can forgive analysts and investors if they remain skeptical.
"Yes, this is finally some good news for Yahoo. But I'm not ready to wear my purple shirt to celebrate just yet," Pyykkonen said, referring to Yahoo's trademark hue.
Best of StockTwits: Traders "poke" fun at Morgan Stanley (MS, Fortune 500) for its role in the Facebook fiasco. Andy Warhol's favorite company gets kicked by investors. And ... surprise! ... more bad news about the housing market.
AronPinson: Has $MS learned nothing from $JPM??? When other market participants know what you're doing... You're screwed! $FB
conorsen: When all is said or done $MS et al will have probably paid Facebook for the privilege of underwriting the IPO. Nice trade, Zuck.
It was comical watching Facebook flirt with the $38 offering price Friday but never fall below it. And you do have to wonder if any good will Facebook generated from keeping underwriting fees down will be overshadowed by the fact that the stock is getting killed Monday.
BrianSozzi: The problem with doing the yield grab on some consumer staples: "cost inflation, increased promotional spending and unfavorable mix." $CPB
At first blush, Campbell Soup (CPB, Fortune 500) would seem to be a great stock for uncertain times. You have to eat, right? And soup is cheap. Then there's that tasty dividend.
But the stock was down 4% on weak earnings. Commodity prices and high marketing expenses often have a way of turning what looks like a great "safe haven" investment into the culinary equivalent, of well, Facebook.
ReformedBroker: $LOW didn't have anything good to say re: housing market/demand. $HD didn't either last week.
That is a worrisome sign. Lowe's (LOW, Fortune 500) and Home Depot (HD, Fortune 500) both had decent quarters but investors were spooked by guidance. It goes without saying that the only way to sustained improvement in the job market and overall economy is through a healthier housing market.
If the outlooks from the home improvement retailers are to be believed, there hasn't been nearly as much improvement in housing as we need.
The opinions expressed in this commentary are solely those of Paul R. La Monica. Other than Time Warner, the parent of CNNMoney, and Abbott Laboratories, La Monica does not own positions in any individual stocks.