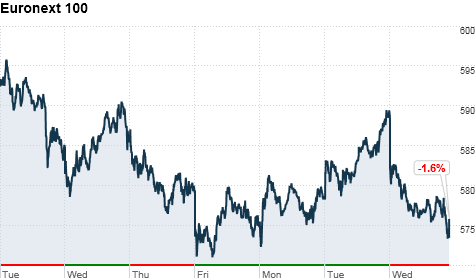 Click on chart to track markets
NEW YORK (CNNMoney) -- World markets plunged Wednesday on renewed anxiety over Greece and signs that the Chinese economy is losing steam.
European leaders are gathering in Brussels for an informal dinner Wednesday amid new threats to the troubled euro currency union.
The leaders are expected to discuss ways to boost economic growth and create jobs. This is the first summit for newly elected French President Francois Hollande, who campaigned on a shift away from austerity cuts in favor of more growth-orientated policies.
BNP Paribas analyst Luigi Speranza said the so-called "growth pact" will focus on infrastructure projects and improved targeting of eurozone funds, but he was pessimistic about the meeting's outcome.
"None of these initiatives, even if swiftly implemented, will be sufficient to significantly change the gloomy growth outlook in the peripheral eurozone near term," wrote Speranza, in a research note.
European stocks tumbled. The FTSE 100 (UKX) in London ended down 2.5%, the DAX (DAX) in Frankfurt fell 2.3% and the CAC 40 (CAC40) in Paris plunged 2.6%.

This meeting comes as Greece continues its struggle to form a government. On Tuesday, Dow Jones Newswires reported that former Greek prime minister Lucas Papademos said Greece is at real risk of leaving the eurozone.
That sparked a sell-off in the final hour of trading on Wall Street Tuesday. The three major U.S. indexes were headed south again on Wednesday. The Dow Jones industrial average (INDU) and the S&P 500 (SPX) dropped 1.3% in morning trading, while the Nasdaq (COMP) fell 1.2%.
Early Wednesday, the euro fell to its lowest level since September 2010, driven lower by "the growing threat of a Greek exit," said DailyFX currency analyst David Song, who added that there is little reason to believe that the eurozone summit will reverse that downward course.
"As European policymakers continue to act in their own interest, the risk of a euro-area breakup continues to dampen the outlook for the euro," said Song.
Also, Germany reportedly snubbed the idea of common eurobonds, not wishing to share the debt load of other countries.
Marc Chandler, strategist for Brown Brother Harriman, believes that these types of conflicts could derail any chance of a productive solution coming out of Wednesday's informal meeting.
"Differences between France and Germany on the topics of eurozone bonds and growth versus austerity have led markets to believe that nothing substantial will emerge," he wrote, in a market note.
Asian markets took a dive after the World Bank cut its growth forecasts for the Asia-Pacific region, including China, to 7.6% for 2012 compared to 8.2% last year.
Asian markets ended down. The Hang Seng (HSI) in Hong Kong fell 1.3%, the Nikkei (N225) in Tokyo dropped about 2% and the Shanghai Composite (SHCOMP) slipped 0.4%.
Also, Fitch Ratings downgraded Japan on Tuesday, primarily because of its high ratio debt to gross domestic product, which is forecast to reach 239% by the end of the year.