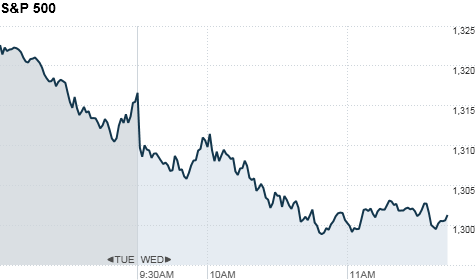 Click chart for more market data.
NEW YORK (CNNMoney) -- Tech shares led a broad sell-off on Wall Street Wednesday, following disappointing earnings, sales and outlook from Dell. Worries about Greece leaving the eurozone added to the pessimism, sending stocks down 1.3%.
"The Dell news sent some fears through the tech sector," said Timothy Ghriskey, chief investment officer at Solaris Asset Management. "The concern is that this goes beyond just Dell. We saw similar news out of Cisco recently."
Dell (DELL, Fortune 500) shares plunged about 16%, wiping out all of its gains for the year. Dow components Microsoft (MSFT, Fortune 500) and Intel (INTL, Fortune 500) fell more than 3%, while Cisco (CSCO, Fortune 500) was down about 1.5%.
Investors are also keeping close tabs on Facebook (FB) and the unfolding saga. Investigators are looking into whether Morgan Stanley (MS, Fortune 500), the lead underwriter for Facebook's initial public offering last week, shared a negative assessment of the social network with major clients ahead of the IPO.
Shares of Facebook, which lost 18% from its IPO price in the first two days of trading this week, rebounded more 4%.
Michael Sheldon, chief market strategist at RDM Financial Group said the weakness in technology stocks is signaling broader worries about the economy.
"Investors are somewhat unsure of the direction of the economy," he said. "When there's doubt, investors run.
The Dow Jones industrial average (INDU) tumbled 163 points, or 1.3%, pushing 29 of the 30 stocks in the blue-chip index lower. Only Wal-Mart (WMT, Fortune 500) was marginally higher.
The tech-heavy Nasdaq (COMP) shed 38 points, or 1.3%. The S&P 500 (SPX) slid 17 points, which also put it down 1.3%.
European leaders were meeting in an ad hoc summit to address the latest problems with sovereign debt. The meeting is occurring amid growing worries that Greece is moving closer to dropping the euro, and about what the contagion effects an exit might have on other economies.
Former Greek prime minister Lucas Papademos told Dow Jones Newswires late Tuesday that Greece is considering preparations to leave the eurozone.
"I think the biggest issue for U.S. markets remains the story in Europe," said Sheldon. "Does Greece pull out of the eurozone and what kind of contagion does that cause?"
On the domestic front, weak earnings, sales and guidance from Dell late Tuesday sparked a sharp sell-off in its shares. Rival Hewlett Packard (HPQ, Fortune 500), which is due to report results after the close, were also down about 4%. HP is also widely expect to announce mass layoffs.
U.S. stocks ended flat Tuesday, turning lower during the final hour of trading on reports about Greece's preparations to leave the eurozone.
World markets: European stocks were sharply lower in afternoon trading. Britain's FTSE 100 (UKX) and France's CAC 40 (CAC40) lost 2.5%, while the DAX (DAX) in Germany fell 2.3%.
The World Bank cut its growth estimates for growth in the Asia-Pacific region, including China. It now forecasts a growth of 7.6% this year -- down from 8.2% in 2011, and 10% as recently as 2010.
Asian markets ended lower following the World Bank's cut on growth forecasts. The Shanghai Composite (SHCOMP) slipped 0.4%, while the Hang Seng (HSI) in Hong Kong lost 1.3% and Japan's Nikkei (N225) tumbled nearly 2%.
Companies: Automaker Ford Motor (F, Fortune 500) had its debt upgraded out of junk bond status by Moody's late Tuesday -- an important benchmark for the automaker that will lower its borrowing costs, and allow it to reclaim collateral it put up for a credit line. Shares were up in morning trading, as were those of rival General Motors (GM, Fortune 500), which is awaiting its own upgrade to investment grade.
Homebuilder Toll Brothers (TOL) reported better-than-expected earnings and revenue that was in line with forecasts before the market open Wednesday. It also upped its guidance for the second quarter.
Shares of Hormel (HRL, Fortune 500) edged higher after the meat processor reported a better-than-expected gain in earnings before the open.
Financial stocks were under pressure early Wednesday, with shares of JPMorgan Chase (JPM, Fortune 500) and Bank of America (BAC, Fortune 500) down more 1%, while Citigroup (C, Fortune 500) shed 2.5%.
Economy: New-home sales rose more than expected in April to an annual pace of 343,000, up from 332,000 in March. The report follows a strong report on sales of existing homes Tuesday, in which sales climbed 10%.
Currencies and commodities: The dollar rose to its highest level in nearly two years against the euro. The greenback also edged higher versus the British pound, but lost ground against the Japanese yen.
Oil for July delivery slipped $1.70, or 1.8%, to $90.17 a barrel. Officials from six world powers are due to hold talks with Iran in Baghdad on Wednesday about its nuclear program, raising hopes that there might be an deal that would end sanctions against Iran.
Gold futures for June delivery tumbled $39, or 2.5%, to $1,536.80 an ounce.
Bonds: The price on the benchmark 10-year U.S. Treasury moved slightly higher, knocking the yield down to 1.72% from 1.79% Tuesday.