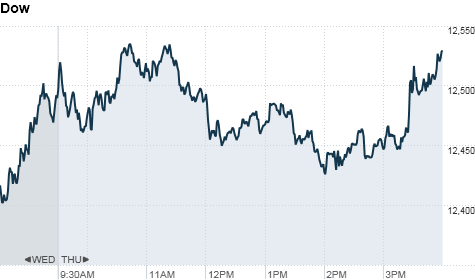 Click the chart for more stock market data.
NEW YORK (CNNMoney) -- U.S. stocks finished mixed Thursday, as investors reacted to a batch of lackluster U.S. economic data and ongoing concerns about Europe's debt crisis and the risk of Greece exiting the eurozone.
The Dow Jones industrial average (INDU) rose 34 points, or 0.3%, the S&P 500 (SPX) added 2 points, or 0.1%, and the Nasdaq (COMP) declined 11 points, or 0.4%.
Investors were less than impressed to see that the number of Americans filing for first-time unemployment benefits held near the 370,000 mark for a fourth week, signaling companies probably increased hiring only slightly in May.
Durable good orders only rose 0.2%, less than economists were expecting. Excluding transportation goods, orders unexpectedly dropped 0.6%, compared to forecasts for a modest gain.
Meanwhile, worries about Europe's debt crisis and the threat of Greece leaving the eurozone have unnerved investors on both sides of the Atlantic. According to CNNMoney's Fear & Greed Index, investor sentiment has been at an "extreme fear" level for the past two weeks.
European leaders met Wednesday in an ad hoc summit to address the latest problems with sovereign debt amid growing worries that Greece is moving closer to dropping the euro, and the contagion effects an exit might have on other economies.
The meeting failed to establish any concrete solutions for resolving the sovereign debt crisis or moving forward with Greece.
German Chancellor Angela Merkel said, "We want Greece to stay in the euro, but we insist that Greece sticks to commitments that it has agreed to."
As investors continue to watch for developments out of Europe, markets will likely continue to "move along a bumpy road" said Tyler Vernon, chief investment officer at Biltmore Capital.
Given the recent slide in stocks, investors are looking for good buying opportunities but are afraid to be getting in amid uncertainty in Europe, he said.
"Emotions have taken hold of the markets in recent weeks, but at some point, the value guys will start coming in," Vernon said, noting that the S&P 500 is trading at an attractive valuation, below 13 times earnings estimates.
Worries about weakness in the technology sector were one of the major drags on U.S. markets for much of the trading day Wednesday, although stocks erased hefty losses by the end of the day.
World markets: European stocks ended higher the day after leaders met. Britain's FTSE 100 (UKX) gained nearly 1.6%, the DAX (DAX) in Germany added 0.5% and France's CAC 40 (CAC40) rose 1.2%.
Asian markets closed mostly lower following HSBC's preliminary reading on Chinese manufacturing. The Shanghai Composite (SHCOMP) lost 0.5%, while the Hang Seng (HSI) in Hong Kong closed off 0.6%. Bucking the trend was Japan's Nikkei (N225), which inched up 0.1% at the close.
China's manufacturing sector continued to shrink in May, according to a preliminary reading from HSBC's Flash Purchasing Managers' Index.
Economy: The number of people filing for first-time unemployment benefits dipped 2,000 to 370,000 in the latest week, the Labor Department said Thursday. The number was in line with economists' forecasts.
Companies: Shares of Dow component Hewlett-Packard (HPQ, Fortune 500) jumped after the company reported profit and sales that beat forecasts and raised its forecast for the full year. The company also announced plans to cut 27,000 jobs worldwide.
Warehouse retailer Costco (COST, Fortune 500) reported improved earnings that were slightly better than forecasts early Thursday, on revenue that was roughly in line with estimates. Shares of Costco gained on the report.
Shares of luxury retailer Tiffany & Co. (TIF) tumbled after it reported lower earnings that missed forecasts, despite improved revenue.
Shares of data storage firm NetApp (NTAP, Fortune 500) plunged after the company gave fiscal first-quarter earnings guidance well below the consensus estimates. The company did report fiscal fourth-quarter earnings growth, though.
Meanwhile, the Facebook (FB) saga continues as the social media company's IPO has sparked more lawsuits and investigations. Shares of the company edged higher Thursday, but are still trading below the IPO price of $38.
Lead Facebook IPO underwriter Morgan Stanley (MS, Fortune 500) and other underwriters made money on the trading of Facebook shares as prices dropped, sources at one of the underwriters told Fortune.
Currencies and commodities: The dollar dropped against against the euro and the British pound, but was higher versus the Japanese yen.
Oil for July delivery rose 70 cents to settle at $90.66 a barrel, moving back above the benchmark after falling below $90 for the first time since November during trading Wednesday.
Gold futures for June delivery rose $9.10 to settle at $1,557.50 an ounce.
Bonds: The price on the benchmark 10-year U.S. Treasury edged lower, with the yield rising to 1.76% from 1.72% late Wednesday.