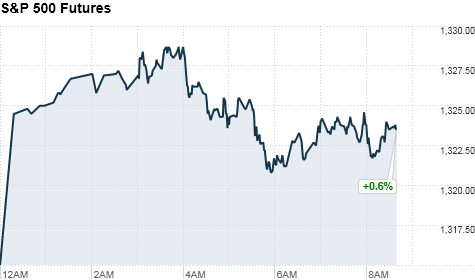 Click on chart for more premarket data
NEW YORK (CNNMoney) -- U.S. stocks could get a lift Tuesday from growing hopes that Greece might avoid an exit from the eurozone, and that China might soon announce a stimulus package for its slowing economy.
Dow Jones industrial average (INDU), S&P 500 (SPX) and Nasdaq (COMP) futures were all up at least 0.6%. Stock futures indicate the possible direction of the markets when they open at 9:30 a.m. ET.
Investors in the United States will come off a holiday weekend with a renewed focus on Europe's debt crisis, which has been dominant in recent months.
Polls published over the weekend suggest that the New Democracy party, which favors the austerity plan central to the European bailout that has kept Greece in the eurozone, has moved back in front of the anti-austerity Syriza party. The prospect that Syriza could lead a new government after the June 17 vote was one of the major factors to have worried markets in recent weeks.
Additionally, Greece's four major banks were able to recapitalize with help from a European bailout fund Monday. The recapitalization could allow them to get assistance from the European Central Bank and reduce the threat of a run on the Greek banking system.
"[Europe's] equity markets started off positively on higher hopes of a pro-bailout government in Greece," said Jim Reid, strategist with Deutsche Bank's London office, in a note to clients Tuesday.
Still there are many who believe Greece is close to leaving the eurozone, affecting neighboring economies in the process.
Spain is also prominent in investors' minds amid fresh worries about the health of its banking system, after some Spanish banks were downgraded Friday. Reid said the yield spread between Spanish and German debt reached the highest level since the creation of the euro.
Investors have also been fearful that the slowing of China's economy could cause a so-called "hard landing" for the world's No. 2 economy. But Reid said Tuesday that there are growing hopes for more stimulus spending in China, including a so-called Cash for Clunkers program to spur auto purchases.
Reports due Tuesday in the United States included home prices and consumer confidence.
Later in the week comes the May jobs report, as well as key readings on manufacturing and auto sales. Economists surveyed by CNNMoney forecast that employers added 150,000 jobs in May, and that unemployment remained at 8.1%.
Deutsche Bank's Reid believes some focus will shift back to the U.S. economy from overseas worries on Tuesday, given the importance of the coming reports.
U.S. stocks fell Friday, but ended higher for the week, as concerns about the debt crisis in Europe continued to weigh on the market. U.S. markets were closed Monday for Memorial Day.
Worries over Greece's future and the broader region's debt problems have already triggered deep losses in U.S. stocks and international markets this month. The S&P 500 and Dow are down almost 6% in May, and headed for their worst monthly losses since November 2011.
World markets: European stocks were higher in midday trading. Britain's FTSE 100 (UKX) edged up 0.1%, while the DAX (DAX) in Germany added 0.8% and France's CAC 40 (CAC40) was rose 0.5%.
Asian markets ended higher on hopes for more Chinese stimulus. The Shanghai Composite (SHCOMP) rose 1.2%, the Hang Seng (HSI) in Hong Kong jumped 1.4% and Japan's Nikkei (N225) gained 0.7%.
Economy: The Conference Board's Consumer Confidence Index for May is expected to come in at 69, according to a survey of analysts by Briefing.com, down from 69.2 last month.
The Case-Shiller 20-city index showed home prices slipped at a 2.6% annual rate in March to the lowest point since mid-2002. But the annual decline was a bit less than the 2.8% forecast or the 3.5% drop in prices during the prior month.
Currencies and commodities: The dollar was slightly lower against the euro, but edged up against the British pound and Japanese yen.
Oil for July delivery rose 31 cents to $91.17 a barrel.
Gold futures for June delivery added $1.10 to $1,574.10 an ounce.
Bonds: The price on the benchmark 10-year U.S. Treasury rose, pushing the yield down to 1.72% from 1.74% late Friday.