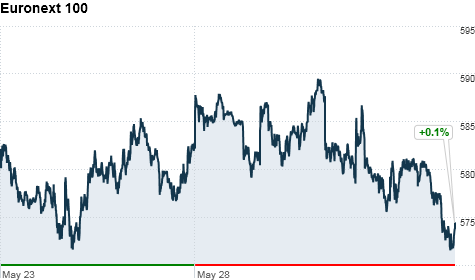 Click on chart for more world markets data
NEW YORK (CNNMoney) -- Investors in Europe welcomed slightly upbeat economic news Thursday, driving stocks in the region higher.
Germany's unemployment rate fell to 6.7% and retail sales in the country were better than expected in May. The United Kingdom saw a surprising rise in home prices and Switzerland reported an acceleration in economic growth in the first quarter.
All this positive news came against a backdrop of fear about the region's debt crisis. Ireland is voting Thursday on the fiscal compact that most European Union leaders signed in March, but results aren't expected until Friday.
Meanwhile, Spain is still grappling with a banking crisis and in Greece, the final public opinion polls are trickling in ahead of the next round of parliamentary elections on June 17.
European indexes ended mixed after being higher earlier in the day. London's FTSE 100 (UKX) gained 0.2%, Frankfurt's DAX (DAX) slipped 0.3% and Paris' CAC 40 (CAC40) edged up 0.1%.
In Asia, the trading session was marked by gloomier news. Japan reported weaker-than-expected industrial production in April and India said its economic growth slowed sharply in the first quarter.
The Hang Seng (HSI) in Hong Kong finished down 0.3% and the Nikkei (N225) in Tokyo slipped 1.1%. China's Shanghai Composite (SHCOMP) lost 0.5%.