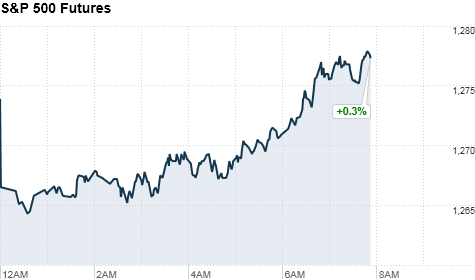 Click on chart for more premarket data
NEW YORK (CNNMoney) -- U.S. investors braced Monday for a choppy start to the week as worries about a global growth slowdown and uncertainty surrounding Europe's debt crisis persisted.
With little on the economic or corporate calendar, investors will likely be taking their cues from any comments out of Europe.
Over the weekend, billionaire fund manager George Soros said it's up to the German government to help "reverse the current trends," and it has a three-month window to do so.
"In a crisis, the creditors are in the driver's seat, and nothing can be done without German support," Soros said.
Anxieties over the health of the Spanish banking system and the possibility that Greece could soon exit the euro remain high.
There are also worries about slowing growth in emerging markets such as China and India. Recent reports out of China last week showed the manufacturing sector contracted more than expected in May.
S&P 500 (SPX) and Nasdaq (COMP) futures were slightly higher, while Dow Jones industrial average (INDU) futures remained narrowly lower. Stock futures indicate the possible direction of the markets when they open at 9:30 a.m. ET.
Mark Luschini, chief investment strategist at Janney Montgomery Scott, said the mixed to flat open isn't a surprise, given the extent of the sell-off at the end of last week. He said many investors will want to be on hold as they await more news out of Europe or the testimony due Thursday from Federal Reserve Chairman Ben Bernanke.
"Investors are pausing in advance of other news, and not wanting to get in front of it," he said. But he said that, given the current conditions in the market, it's more likely U.S. stocks will have a stronger reaction to any bad news than to any good economic reports.
"The markets are in a delicate period right now," he said.
Investors head into the week reeling from a dismal monthly jobs report on Friday, and as worries about the European debt crisis grow. .
U.S. stocks tumbled more than 2% Friday in the worst trading day of the year. The Dow erased all its gains for 2012, and the S&P 500 and Nasdaq moved into correction territory -- down more than 10% from the year's highs.
The CNNMoney's "Fear and Greed" index fell more sharply into extreme fear territory in trading Friday. And that fear fed into the flight to safety, driving up bond prices and pushing the yield on the benchmark 10-year Treasury down to a record low close of 1.47%.
Bond prices retreated slightly in Monday trading, allowing the yield on the 10-year note to rise back to just under 1.50%.
World markets: European stocks were mixed in afternoon trading. The DAX (DAX) in Germany fell 0.4%, while France's CAC 40 (CAC40) rose 0.9%. British markets are closed for a bank holiday.
Asian markets ended lower in their first day of trading since the U.S. jobs report. The Shanghai Composite (SHCOMP) tumbled 2.7%, and the Hang Seng (HSI) in Hong Kong fell 2%. The Nikkei (N225) in Tokyo fell 1.7%.
Economy: A report on April factory orders in the U.S. is due on Monday. Orders are expected to have ticked up by 0.1%, according to a survey of analysts by Briefing.com, after dropping 1.9% in the prior month.
Companies: Shares of Facebook (FB), which have gotten hammered since the company's IPO, edged higher in premarket trading.
Groupon (GRPN) shares gave up another 0.9% in after-hours trading Friday. The online discount service, which has been dogged with questions about its accounting practices since its initial public offering in November, ended its lock-up period Friday, meaning that insiders who own shares are now able to sell them.
Shares of AutoNation, the largest U.S. car dealership, jumped 5.7% in premarket trading after it reported that its May new car sales rose 45%. That was almost twice as good as the 26% rise in industrywide U.S. car sales reported by major automakers Friday. But the industrywide sales pace was generally less than forecast as it came in at the weakest pace of 2012.
Currencies and commodities: The dollar rose against the euro and Japanese yen, but fell versus the British pound.
Oil for July delivery fell 87 cents to $82.36 a barrel.
Gold futures for August delivery lost $1 to $1,621.10 an ounce.