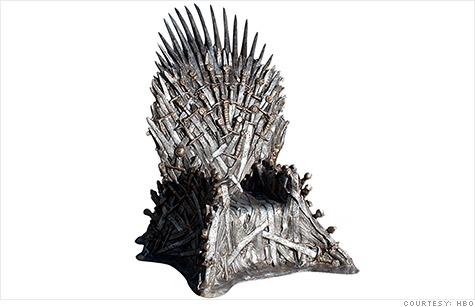 HBO is selling "Game of Thrones" thrones for the Lannister-like sum of $30,000.
NEW YORK (CNNMoney) -- HBO is selling the titular throne -- or a replica of it, anyway -- from its television series "Game of Thrones" for the princely sum of $30,000.
Only a Lannister, like Peter Dinklage's quick-witted Tyrion, could afford this sword-forged throne of the Seven Kingdoms, especially since it carries additional shipping fees of $1,800, according to HBO's online order site.
But that's because this nerd's-dream-come-true weighs 350 pounds and is made from 1,000 swords of vanquished enemies! (Actually, it's made from "hand-finished, hand-painted fiberglass" and "fire-rated resin" that has been "twisted and turned" to mimic the TV throne, according to the site.)
HBO says the throne, which went on sale Tuesday, is five feet, two inches tall; five feet, 11 inches deep; and five feet, five inches wide.
"Spikes and jagged edges in every direction make this one very intimidating lounge," reads the HBO description, which seems to value intimidation over comfort.
The thrones are made to order, and shipping time is six to eight weeks, according to HBO.
"Game of Thrones," a blood-soaked, sword and sorcery epic with ample doses of nudity, recently completed its second season.
HBO is part of Time Warner (TWX, Fortune 500), the parent company of CNNMoney.