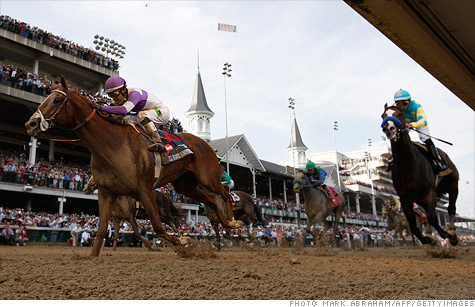 I'll Have Another, shown here winning the Kentucky Derby, will likely earn far more in stud fees than it could have earned even if it had won the Triple Crown.
NEW YORK (CNNMoney) -- I'll Have Another won't get the chance to try for horse racing's Triple Crown, but that doesn't mean that owner J. Paul Reddam will miss out on a big payday.
The horse may not take the Belmont Stake's $600,000 prize money, but he's already won $2 million on the first two legs of the Triple Crown, the Kentucky Derby and the Preakness. And he still has the potential to earn as much as $10 million in stud fees, according to breeding experts.
Evan Hammonds, executive editor of BloodHorse, a leading publication for the thoroughbred horse industry, estimates Reddam will collect $20,000 to $25,000 every time the horse is bred. That could add up to between $6 million and $10 million over the horse's lifetime.
I'll Have Another will sit out Saturday's race, despite the possibility that he could have been the first Triple Crown winner in 34 years, due to a tendon injury. Many in the horse racing industry were hoping the publicity surrounding a rare Triple Crown win would give the financially-troubled sport a much needed lift.
It was a business decision as much as a humane one, since a serious injury to the horse would imperil those stud fees.
Reddam and trainer Doug O'Neill could have raced I'll Have Another at Belmont, but a catastrophic injury might have meant that the horse had to be destroyed.
And missing the big race probably won't hurt I'll Have Another's stud fees, according to Hammonds.
"A win wouldn't have inflated his stud fees that much," he said, "so I don't think skipping the race would deflate them that much."
I'll Have Another was purchased at auction for $35,000 and was considered a long-shot Triple Crown contender before his Kentucky Derby win, partly because he didn't have particularly distinguished blood lines.