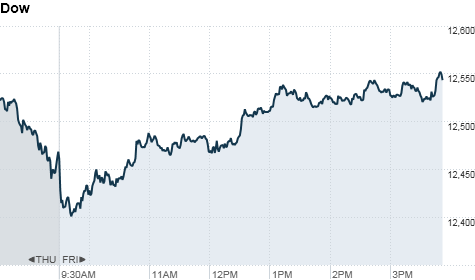 Click the chart for more stock market data
NEW YORK (CNNMoney) -- Is there any way to top the best week for U.S. stocks this year?
Maybe, if investors like the weekend news out of Spain and China.
In an effort to stem the European debt crisis, Spain on Saturday asked the European Union for up to €100 billion ($125 billion) in aid for its troubled banks. The exact amount of the aid will be determined once audits of the Spanish banking system have been completed.
The announcement came in the wake of an International Monetary Fund report issued late Friday saying that several banks in Spain would need to raise capital buffers by a total of €40 billion ($50.1 billion) to withstand another financial shock.
EU officials have been eager to resolve the Spanish bank issue before a pivotal parliamentary election in Greece next Sunday, which could present another major turning point in the long-running European crisis.
The result will hinge on how willing the Greeks are to accept austerity measures as a condition for EU aid. Anxiety about the vote could be a cloud over the markets later in the week.
Also on Saturday, the Chinese government said consumer inflation continued to ease last month, another sign that more stimulus could be in the pipeline for the world's No. 2 economy.
Consumer prices increased at an annual rate of 3% in May, the National Bureau of Statistics reported. That was down from a 3.4% rate of increase in April.
Global concerns have plagued U.S. markets throughout the spring. But last week, the major indexes had their best week of 2012. The Dow was up 3.6%, the S&P gained 3.5% and the Nasdaq was 3.9% higher for the week.
Talks of intervention by global central banks gave the market a boost. The European Central Bank left rates unchanged at its meeting on Wednesday, but analysts anticipate the ECB to cut rates by 0.25% at its next meeting in July.
Federal Reserve chairman Ben Bernanke said Thursday that the U.S. central bank stands ready to act, but gave no indication that a move is imminent.
China's central bank, on the other hand, took action on Thursday, announcing its first rate cut since 2008.
Investor sentiment remained in the "extreme fear" range on CNNMoney's Fear & Greed index on Friday, but it pulled back closer merely to the "fear" range.
With Europe and China serving as the week's wild cards, what's going on in the United States might not carry as much weight with investors.
Among the key reports due out this week are retail sales, consumer prices and producer prices for May, and the weekly report on first-time unemployment claims.
There will also be some big developments on the corporate front. On Monday, Apple (AAPL, Fortune 500) will unveil new products at its World Wide Developers Conference in San Francisco. And, on Wednesday, the JPMorgan Chase (JPM, Fortune 500) trading loss recaptures everyone's attention when chairman and CEO Jamie Dimon testifies before the Senate Banking Committee.
But, according to Bruce McCain, chief investment strategist at Key Private Bank, U.S. economic news will be a sideshow to global events -- particularly how Europe responds to Spain this week.
"If we get some sense that the worst is over, then we could have a serious chance of having a stabilization here," McCain said.