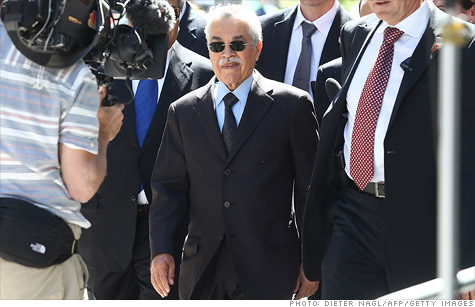 Saudia Arabia's Minister of Petroleum and Mineral Resourdes Ali Naimi arrives for the 161st ordinary meeting of the Organization of the Petroleum Exporting Countries.
NEW YORK (CNNMoney) -- OPEC said it will leave its official production ceiling unchanged, dashing hopes for an official increase that could have sent crude prices lower.
At a regularly scheduled meeting in Vienna, the cartel will maintain its current production limit of 30 million barrels per day.
Comments from Saudi Arabia's oil minister earlier this week indicated the Saudis might push for an official increase in OPEC's production ceiling --possibly to 30.5 million barrels per day.
Such an increase would have had a largely psychological impact on prices. OPEC is already pumping roughly 32 million barrels per day as Libyan oil returns to market and the Saudis keep production high to offset any potential loss from sanctions on Iran. The world produced about 91 million barrels per day in May, according to the International Energy Agency.
An official increase in the production ceiling is thought to be opposed by Iran, Venezuela and other countries who fear raising the official limit would further dampen oil prices, which have tumbled some 20% from earlier this year.
Crude prices have tumbled as the financial crisis in Europe deepens, job creation fizzles in the United States, and the economies of China, India and Brazil slow. The latest IEA report showed crude production outpacing consumption by about 1 million barrels per day, and inventories worldwide are seen growing.
The decision to keep the production ceiling unchanged was largely expected, as comments that OPEC may meet again soon if oil prices fall further.
In a statement issued late Thursday, OPEC seemed to indicate that slowing economic conditions and rising production from places including the United States may make it necessary to cut production in the future.
"The second half of the year could see a further easing in fundamentals, despite seasonally-higher demand," the statement said. "Member Countries confirmed their readiness to swiftly respond to developments that might place oil market stability in jeopardy."
While the OPEC news did little to move oil prices, crude prices did rise nearly $1 a barrel earlier in the day on expectations that the Federal Reserve may send another jolt of fiscal stimulus through the economy in response to the deteriorating economic conditions.
Previous stimulus efforts have been followed by stronger rounds of jobs creation, which usually boost oil demand.
Stimulus efforts that in one way or another involve printing more money can also depress the U.S. dollar, causing oil price to rise further still.
"Right now, [oil prices] are just following what's going on with the dollar and equities," Addison Armstrong, director of market research at the brokerage Tradition Energy.