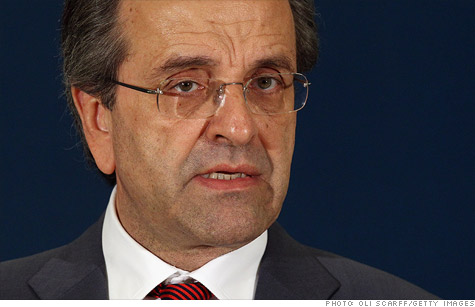 New Democracy leader Antonis Samaras will try to corral Greek politicians this week in his second attempt to form a governing coalition.
NEW YORK (CNNMoney) -- Greece took a step back from the brink this weekend, but the nation faces a long road to recovery.
Despite the "victory" of a pro-bailout political party in Sunday's election, the final composition of the next Greek government has yet to be determined.
Once a government is formed, regardless of which party is in charge, the first task will be to renegotiate the terms of Greece's bailout program. That will be difficult, to say the least, and could take weeks if not months to accomplish.
In other words, the outlook for Greece is highly uncertain and the nation's political and economic crisis is far from over.
Forming a government: The first challenge will be for Greek politicians to come together and form a government, something they failed to do last month under very similar circumstances.
New Democracy, one of the political parties that signed off on Greece's bailout program in March, won 129 seats in the Greek parliament.
But it fell short of claiming a majority in Greece's 300-seat Parliament. That means New Democracy will need to join forces with at least one other party to form a viable government.
The most likely candidate is the socialist Pasok party, which came in third on Sunday, with 33 seats in parliament. Together, New Democracy and Pasok would have a majority. The coalition could be strengthened if another party, Democratic Left, agrees to join.
However, analysts say Pasok party leader Evangelos Venizelos wants the far-left Syriza party to be included in any governing coalition.
Syriza, which has threatened to renege on the terms of the bailout, came in second in the election, with 71 seats in parliament.
The concern is that Pasok will refuse to join forces with New Democracy if Syriza is not included.
Starting Monday, New Democracy has three days to form a government. If it fails, Syriza will be given the same three-day deadline. If Syriza fails, Pasok will be next in line.
In the event that no government is formed, Greece could hold a third election. But analysts say there is no political appetite in Greece for a third election, suggesting the parties have a strong incentive to cooperate.
Bailout renegotiation: Any government that comes to power is expected to immediately begin renegotiating the terms of the nation's bailout program with its international creditors.
There are signs that the European Union, International Monetary Fund and European Central bank, collectively known as the troika, are willing to make concessions.
In a statement issued Sunday, the Eurogroup of euro area finance ministers said the troika looks forward to an "exchange of views" with the Greek government, once it is formed.
The immediate goal is to give Greece more time to meet its fiscal targets, including a deadline at the end of June to identify additional budget cuts.
However, allowing Greece more time to meet its targets could cause the government to run in arrears, meaning it will go deeper into debt.
In addition, the Greek economy has taken a turn for the worse since the bailout agreement was signed in March.
The combination of weaker-than-expected economic performance and additional debt means Greece could soon need more bailout money.
Analysts at political research firm Eurasia group estimate that Greece could have between €20 billion to €30 billion in additional funding needs, depending on how the terms are restructured.
While the troika may be willing to cut Greece some slack by delaying reforms, it may not be willing to sign off on a third bailout.
The renegotiation process is expected to take at least three weeks. But it could take longer depending on how things play out in the Netherlands.
The Dutch government collapsed in April and the nation may not agree to any concessions for Greece until after elections are held in mid-September.
There is a chance that negotiations could drag out until the end of August, when Greece is due to make a €3.1 billion bond payment, according analysts at Barclays.
"In that case, Greece and the EU would have to negotiate how to make the payment, possibly through a bridge loan from the EFSF," wrote the Barclays analysts, referring to the eurozone bailout fund.