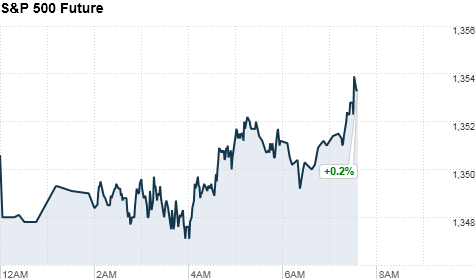 Click on chart for more premarket data
NEW YORK (CNNMoney) -- U.S. stocks were headed for a modestly higher open Wednesday following news that Greece has formed a coalition government.
However, the gains may be modest as investors wait to see if the Federal Reserve announces any moves to stimulate the economy when it wraps up its two-day meeting shortly after noon.
Dow Jones industrial average (INDU), S&P 500 (SPX) and Nasdaq (COMP) futures were all slightly higher in early trading. Stock futures indicate the possible direction of the markets when they open at 9:30 a.m. ET.
Futures got a boost after the leader of one of the pro-austerity parties announced an agreement on a new ruling coalition in Greece. "Greece has a government," said Pasok leader Evangelos Venizelos. It won't be official until Greece's president puts his stamp of approval on the mandate, which is expected to come in the next day or so.
Greece has been a thorn in investors' sides for months, with fears about the country leaving the eurozone and ripple effect on other sovereign nations sending global financial markets on a roller coaster ride. Greece will still have hurdles to cross but the creation of a coalition government is a step in the right direction.
Investors are also hoping that the Fed will announce another round of bond buying, plans to continue its so-called Operation Twist or some other type of stimulus at the close of its two-day policy meeting Wednesday afternoon.
While such an announcement seemed unlikely a few months ago, the bleak recent jobs report in the United States, combined with weaker economic growth have led observers to conclude that some type of Fed action is imminent. A move would likely provide a boost to U.S. stocks, at least in the short term.
The Fed's Open Market Committee is due to release a statement at 12:30 p.m. ET, and Fed chair Ben Bernanke will hold a news conference at 2:15 p.m. ET.
CNNMoney's Fear & Greed index shows investors becoming less fearful, although the reading remains in "fear" territory. Just last week, the index had been in "extreme fear" territory.
U.S. stocks finished up about 1% Tuesday, as investors signaled hope for some Fed action.
World markets: European stocks were mixed in midday trading. Britain's FTSE 100 (UKX) rose 0.6% and the DAX (DAX) in Germany edged up 0.2%, while France's CAC 40 (CAC40) was barely changed.
Late Tuesday, European leaders at the G-20 meeting pledged to "take all necessary policy measures to safeguard the integrity and stability" of the euro.
But investors are hoping to hear more action from leaders at next week's two-day EU summit.
Asian markets ended mixed. The Shanghai Composite (SHCOMP) slid 0.3%, while the Hang Seng (HSI) in Hong Kong added 0.5% and Japan's Nikkei (N225) gained 1.1%.
Economy: The MBA Mortgage Index and data on crude inventories for the week of June 16 will be released Wednesday.
Companies: Shares of Dow component Procter & Gamble (PG, Fortune 500) fell 2.3% in premarket trading as the maker of consumer products cut its sales and earnings guidance for the current quarter and the full year.
Shares of Adobe Systems (ADBE) dropped 5.8% in premarket trading after the software maker lowered its guidance after Tuesday's close, citing "a weaker demand forecast in Europe."
Shares of furniture maker La-Z-Boy (LZB) rose 6% in after-hours trading after the company beat expectations in releasing its quarterly earnings.
Jabil Circuit (JBL, Fortune 500) shares gained 2% in after-hours trading, after the contract electronics manufacturer reported improved earnings in line with forecasts.
Currencies and commodities: The dollar was flat against all the major currencies.
Oil for July delivery rose 25 cents to $84.28 a barrel.
Gold futures for August delivery dropped $9.80 to $1,613.40 an ounce.
Bonds: The price on the benchmark 10-year U.S. Treasury fell, pushing the yield up to 1.65% from 1.62% late Tuesday.
-- CNN's Matthew Chance contributed