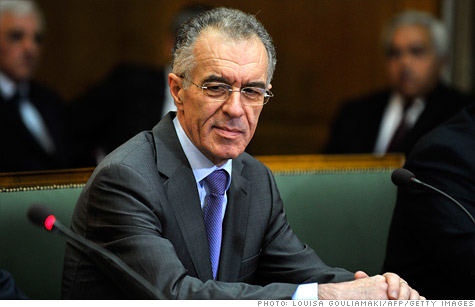 Greek finance minister Vassilis Rapanos resigned Monday for health reasons.
NEW YORK (CNNMoney) -- Greek finance minister Vassilis Rapanos has resigned for health reasons, the Greek government said Monday.
Prime Minister Antonis Samaras accepted Rapanos' resignation, according to a statement from the prime minister's office.
Rapanos was hospitalized Friday after suffering from acute nausea and dizziness.
The development is a potential set-back for the new government in Athens, which has been in power for less than one week.
The coalition has promised to honor Greece's financial commitments, but it is also expected to renegotiate the terms of the nation's bailout package.
Rapanos' resignation comes ahead of a key meeting of European Union leaders on Thursday and Friday.
Samaras, who was hospitalized last week for eye surgery, is not expected to attend the summit in Brussels.