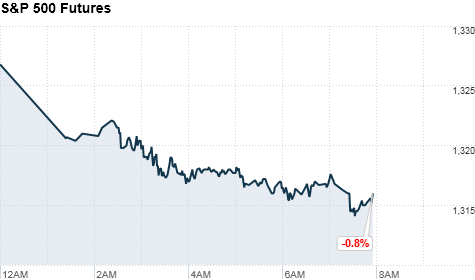 Click on chart for more premarkets data.
NEW YORK (CNNMoney) -- U.S. stocks were headed for a lower open Monday as worries about Europe remained at the forefront ahead of a key meeting of continent leaders later in the week.
Dow Jones industrial average (INDU), S&P 500 (SPX) and Nasdaq (COMP) futures were all lower. Stock futures indicate the possible direction of the markets when they open at 9:30 a.m. ET.
All eyes will be firmly fixed on Europe this week, which culminates with a key two-day EU summit starting Thursday. Expectations are running high for leaders to put together a concrete plan.
European leaders from Germany, France, Italy and Spain said Friday that they had agreed on a set of growth-enhancing policies equal to about €125 billion, or 1% of eurozone gross domestic product.
Early Monday, Spain formally requested aid for its banking sector, as expected.
The country has been struggling under a pile of debt and worries that it might need a bailout, as yields on the Spanish 10-year bond recently flirted with 7% -- a level that flashes warning signs about a country's debt level. Yields have since retreated to around 6.5% but Spain remains on shaky ground.
"If you didn't really want to buy Spanish bonds, you certainly don't want to after this formal request," said Elisabeth Afseth, a fixed income analyst with Investec in London.
Additionally, Cyprus was hit Monday with a downgrade by credit ratings agency Fitch. Cyprus could soon become the latest, and smallest, member of the euro currency union to request a bailout from the European Union.
In the United States, the government will release figures for new home sales in May. The Supreme Court could also announce a ruling on President Obama's health care reform law.
U.S. stocks closed higher Friday, one day after fears of slow growth and bank downgrades sent them spiraling downward.
World markets: European stocks were in the red in afternoon trading. Britain's FTSE 100 (UKX) slid 0.7%, the DAX (DAX) in Germany dropped 1.8% and France's CAC 40 (CAC40) lost 2%.
Asian markets ended lower. The Shanghai Composite (SHCOMP) stumbled 1.6%, the Hang Seng (HSI) in Hong Kong shed 0.5% and Japan's Nikkei (N225) fell 0.7%.
Economy: New home sales for May are expected to come in at an annualized rate of 350,000, according to a survey of analysts by Briefing.com, up from 343,000 in the prior month.
Companies: Shares of Parsippany, N.J.-based Watson Pharmaceuticals (WPI) were up more than 2% in premarket trading on news that U.S. drug regulators gave it permission to produce generic forms of Adderall XR. Until now, Ireland's Shire (SHPGY) has been the only producer of the drug, administered to those diagnosed with attention deficit hyperactivity disorder. The Food and Drug Administration's recent approval means the entrance of Watson as a new competitor.
Currencies and commodities: The dollar gained strength against the euro and British pound, but fell versus the Japanese yen.
Oil for August delivery fell 86 cents to $78.90 a barrel.
Gold futures for August delivery rose $1.90 to $1,568.80 an ounce.
Bonds: The price on the benchmark 10-year U.S. Treasury rose, pushing the yield down to 1.62% from 1.67% late Friday.