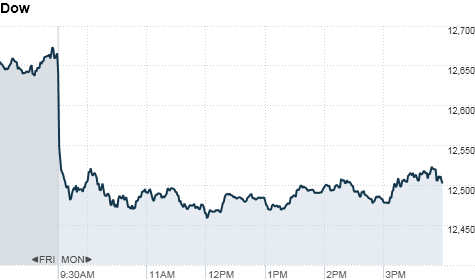 Click for more market data.
NEW YORK (CNNMoney) -- U.S. stocks fell Monday as investors lowered their expectations for a key summit of European Union leaders later this week.
The Dow Jones industrial average (INDU) tumbled 138 points, or 1.1%, to end at 12,503. The S&P 500 (SPX) slid 21 points, or 1.6%, to 1,314. The Nasdaq (COMP) sank 56 points, or 1.9%, to 2,836.
Bank of America (BAC, Fortune 500) and Hewlett-Packard (HPQ, Fortune 500) were the worst performers on the Dow, while Wal-Mart (WMT, Fortune 500) bucked the trend. Shares of the world's largest retailer rose 1.3%.
The selloff was driven by doubts that EU leaders will come up with a "game-changer" at a two-day meeting that starts Thursday.
"The eurozone crisis is deepening as investors have little faith in a culmination of any sort of agreement on how to deal with the situation at this week's EU summit," said Angus Campbell, a market analyst at London-based Capital Spreads, in a note to clients.
The leaders are expected to discuss steps towards a so-called banking union and other measures to boost economic activity. But investors are skeptical that Germany will back more radical moves to share the debt burden of struggling euro area governments.
"Investors have all too often seen these summits before ending with little in the way of a resolution," said Campbell. "The markets are crying out for the bazooka that will put an end to the uncertainty, but unfortunately Europe's paymaster Germany is unwilling to pull the trigger."
Spain was in focus Monday after the government officially requested EU loans to help bailout the nation's banks.
Shares of Santander (SAN) and BBVA (BBVA), the two largest Spanish banks, were both down more than 5%.
Spain's borrowing costs have risen recently to record highs above 7%, although the yield on 10-year Spanish bonds stood at about 6.6% Monday. Some investors fear that Spain may need a bailout similar to those given to Greece, Portugal and Ireland.
"If you didn't really want to buy Spanish bonds, you certainly don't want to after this formal request," said Elisabeth Afseth, a fixed income analyst with Investec in London.
Meanwhile, Greek finance minister Vassilis Rapanos, who has been hospitalized since Friday, resigned, and Cyprus became the fifth eurozone country to seek a bailout.
Shares of the National Bank of Greece (NBG) dropped 12%, and GREK (GREK), a Greek ETF, fell 7.5%.
U.S. stocks closed higher Friday, one day after fears of slow growth and bank downgrades sent them spiraling downward.
World markets: European stocks ended the day sharply lower. Britain's FTSE 100 (UKX) slid 1.1%, the DAX (DAX) in Germany dropped 1.8% and France's CAC 40 (CAC40) lost 2.1%.
Asian markets ended lower. The Shanghai Composite (SHCOMP) stumbled 1.6%, the Hang Seng (HSI) in Hong Kong shed 0.5% and Japan's Nikkei (N225) fell 0.7%.
Economy: New home sales for May rose at a seasonally adjusted annual rate 369,000, according to government data. Sales were expected to come in at 350,000, according to a survey of analysts by Briefing.com, up from 343,000 in the prior month.
Companies: Shares of BlackBerry-maker Research In Motion (RIMM) fell 7.5% after analysts at Morgan Stanley reportedly downgraded the stock.
Shares of Finnish cell phone company Nokia (NOK) fell 7.8% to a new 52-week low of $2.14. Another ailing wireless giant, Sprint (S, Fortune 500), was down 6%.
Shares of Parsippany, N.J.-based Watson Pharmaceuticals (WPI) rose on news that U.S. drug regulators gave it permission to produce generic forms of Adderall XR. Until now, Ireland's Shire (SHPGY) has been the only producer of the drug, administered to those diagnosed with attention deficit hyperactivity disorder.
Shares of JC Penney (JCP, Fortune 500) fell amid ongoing worries about the retailer's management. Last week, the company announced that its president was stepping down after less than nine months on the job.
Chesapeake Energy (CHK, Fortune 500) faced continued speculation that the natural gas producer is a takeover target. Its stock plunged 8% after a Reuters investigation revealed that the company and its competitors artificially held down land prices.
Currencies and commodities: The dollar gained strength against the euro and British pound, but fell versus the Japanese yen.
Oil for August delivery fell 55 cents to end at $79.21 a barrel.
Gold futures for August delivery rose $21.50 to settle at $1,588.40 an ounce.
Bonds: The price on the benchmark 10-year U.S. Treasury rose, pushing the yield down to 1.62% from 1.67% late Friday.