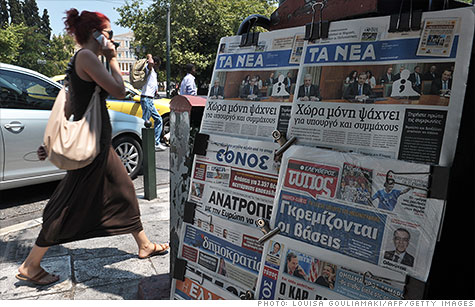 Greece quickly appointed a new finance minister Yannis Stournaras.
NEW YORK (CNNMoney) -- Greece moved quickly to appoint a new finance minister Tuesday, one day after Vassilis Rapanos turned in his resignation due to health reasons.
The Greek government named Athens University economics professor Yannis Stournaras as its new finance minister. Stournaras is considered one of the most influential economists in Greece.
He has also served as the head of the Foundation for Economic and Industrial Research, an influential private think tank that often advises the government. According to several news reports, Stournaras was part of the team that helped negotiate the nation's entrance into the eurozone.
Rapanos resigned after being hospitalized for acute nausea and dizziness.
The change up at the helm of Greece's finance ministry comes ahead of a key meeting of European Union leaders on Thursday and Friday.
It's unclear whether Stournaras will represent Greece at the EU summit. Prime Minister Samaras, who was hospitalized last week for eye surgery, is not expected to attend the summit in Brussels.
Greece's new coalition government has promised to honor Greece's financial commitments, but it is also expected to renegotiate the terms of the nation's bailout package.
-- CNNMoney's Ben Rooney contributed to this report.