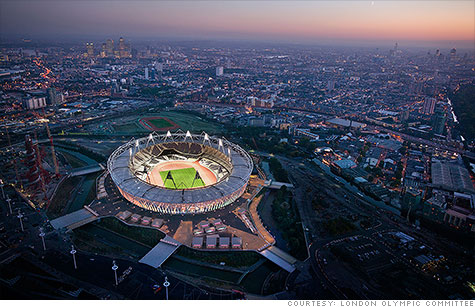 A few ways you can travel to London to enjoy the 2012 Olympics without breaking the bank.
(MONEY Magazine) -- Last-minute travel to London for the Summer Olympics won't be a bargain, but you can still wring some costs out of a visit to the Games.
Fly indirect. Thanks to the number of carriers serving London, flights during the Olympics (July 27 to Aug. 12) might cost you less than to other major European cities.
Even so, you can shave nearly $300 off the $1,100 roundtrip fare from New York (priced in May) by flying to Berlin's Tegel Airport and taking EasyJet to London, says Airfarewatchdog.com's George Hobica.
Keep your distance. A hotel in central or East London (the site of most venues) will run over $300 a night, but commuting will cut costs.
Rooms near Gatwick Airport -- 30 minutes by rail to central London -- start at around $134. For a few dollars more, stay an hour from London in the scenic seaside resort town of Brighton.
Discounted fares for Olympic ticket holders will ease the pain of the commute.
Race to get tickets. Before you go, create a free account at CoSport.com, the only official ticket reseller for U.S. spectators.
The big ceremonies and popular sports are all sold out, but other tickets went on sale this month. Can't score a seat? For free, watch cycling, the triathlon, and the marathon passing landmarks such as Buckingham Palace, Big Ben, and St. Paul's Cathedral.
HOW TO GET A GOLD TICKET
Determined to score a great hotel and a seat at an event? Let a travel agent do the heavy lifting.
Find good help. Use a major agency group, such as Vacation.com, Virtuoso.com or SignatureTravelNetwork.com, says Ruthanne Terrero, editorial director of Travel Agent magazine. These groups of vetted agents have local contacts up to solving Olympic-size crises (such as aiding clients at the Beijing games who'd bought counterfeit tickets).
Buy a package. Travel agents can get you in the Games via "hospitality packages" pairing tickets with lodging (they can't sell tickets separately).
Ludus Sports, for example, charges $5,500 per person for six nights at a four-star hotel in central London and four to five tickets to events such as volleyball, track & field and tae kwon do (airfare not included).
Prepare to pay. Is money no object? An agent should be able to get a package with top tier events such as gymnastics or the opening ceremonies -- at a cost somewhere north of $15,000.
Whatever your budget, prices are likely to rise as the Games approach; book earlier rather than later, advises Kimberly Wilson Wetty, co-president of Valerie Wilson Travel in New York City.