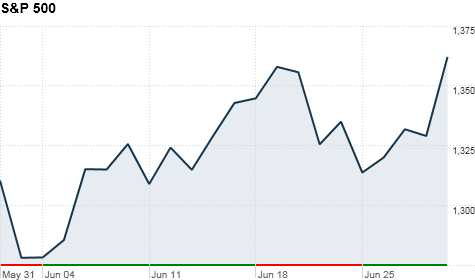 Click the chart for more stock markets data
NEW YORK (CNN Money) -- Investors are heading into a new month, new quarter and new half of the year this week with a lot to chew on.
Fears may have eased somewhat about Europe after leaders struck a "breakthrough" deal on Friday to take steps to stabilize eurozone credit markets and strengthen the region's banking system. But investors are likely to turn their attention to the worrisome labor situation in the United States.
This week brings three different readings on the job market, along with a smattering of other economic reports, including factory orders and construction spending.
Next week also is a holiday week, so markets could be choppy. Markets will close at 1 PM on Tuesday and will be closed on Wednesday for the Fourth of July holiday.
The most important number of the week will come Friday when the Labor Department releases the June jobs report. Investors will watch June's numbers carefully following disappointing numbers in May and a rise in the unemployment rate for the first time in a year.
"Job creation will likely be slow, and will continue to be a soft spot in the economy," said Peter Cardillo, chief market economist at Rockwell Global Capital. "Along with pressure out of Europe impacting growth, the upcoming elections [in the U.S.] are going to continue to keep corporations from accelerating the hiring process."
According to Briefing.com, economists are expecting that 100,000 jobs were added in June. That would be an improvement over the 69,000 jobs added in May, but it remains well below the level of growth needed to really make a dent in economic growth. Economists also are forecasting that the unemployment rate stayed steady at 8.2% in June.
While investors have a lot of U.S. economic data to digest, they will turn their eyes once again to Europe on Thursday, as the European Central Bank will meet to clarify its monetary policy. Most are expecting the ECB to reduce its main refinancing rate to a record low of 0.75%. The central bank has kept interest rates at 1% since January.
Investors will also want to hear what ECB President Mario Draghi says at a press conference following the meeting, as he could provide clues into possible further action by the central bank.
While analysts say that investors will watch closely for any decisions out of the meeting, they don't expect any major action that will move markets.
"They'll try to provide as much encouragement as can while promising as little as they can get away with," said Bruce McCain, chief investment strategist at Key Private Bank. "But it could buy us time and a fairly significant rally given the rally we saw at the end of last week."
All three major market indexes enjoyed solid gains last week, mostly due to Friday's big surge. The Dow Jones industrial average (INDU) closed the week up 1.9%, the S&P 500 (SPX) gained 1.5% and the Nasdaq (COMP) added 2%.
While stocks are still up for the year, all three indexes closed out the second quarter below first quarter highs.
There are no significant corporate earnings reports next week. Most companies will release their second quarter results in mid-July.
However, automakers will report their June U.S. sales figures on Tuesday. That could impact shares of Ford (F, Fortune 500), which warned on Thursday that overseas losses would be bigger than expected in the second quarter, as well as rivals General Motors (GM, Fortune 500), Toyota (TM) and Honda (HMC).