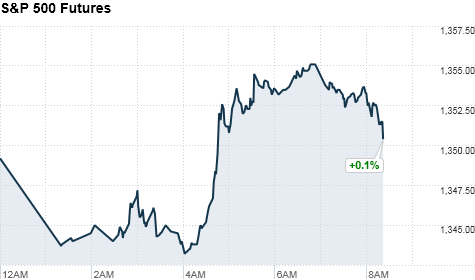 Click on chart for more premarket data.
NEW YORK (CNNMoney) -- U.S. stocks were poised to open higher Tuesday after eurozone finance ministers agree to accelerate an initial bailout for ailing Spanish banks.
The Dow Jones industrial average (INDU), S&P 500 (SPX) and Nasdaq (COMP) futures moved higher Tuesday morning. Stock futures indicate the possible direction of the markets when they open at 9:30 a.m. ET.
Late Monday, eurozone finance ministers agreed that Spain would be offered an initial €30 billion by the end of the month to help bail out its troubled banks. The move is aimed at helping the eurozone's fourth-largest economy from needing a full bailout itself.
But worries remain, said Bob Phillips, co-founder of investment advisory firm Spectrum Management Group in Indianapolis.
"The fundamental issue is that Spain's spending more a year than they're taking in," Phillips said. "They can print money and buy time, but they keep spending money that can't be paid for."
Yields for the 10-year Spanish bond slid to 6.83% following the eurozone announcement. Yields have been recently bouncing above the 7% mark, which heightens bailout worries.
As ministers met in Brussels, the highest court in Germany -- the nation leading the push for austerity -- began hearings examining the impact of the new bailout fund on Germany's ability to manage how taxpayer funds are doled out.
"Ineffective policies by central banks and governments are perceived as the greatest barriers to growth right now," said Mark Helweg, president of financial software firm MicroQuant. "Most of their resources have already been spent."
More signs of a global economic deceleration came from China, which reported worsening year-over-year import growth early Tuesday. June came in at 6.3%, half of May's 12.7%, pointing to weak demand.
U.S. stocks ended lower Monday, as investors remained wary ahead of quarterly corporate results.
Aluminum producer Alcoa (AA, Fortune 500) marked the unofficial beginning of second-quarter earnings season Monday, when it released results after the bell that were roughly in line with analysts expectations.
Results are due later in the week from banking giants JPMorgan (JPM, Fortune 500) and Wells Fargo (WFC, Fortune 500).
Overall, analysts are expecting underwhelming corporate results, with earnings dropping off compared to the first quarter.
World markets: European stocks were higher in morning trading. Britain's FTSE 100 (UKX) added 1%, the DAX (DAX) in Germany gained 1.5% and France's CAC 40 (CAC40) rose 1.2%.
Asian markets closed lower. The Shanghai Composite (SHCOMP) fell 0.3%, the Hang Seng (HSI) in Hong Kong shed 0.2% and Japan's Nikkei (N225) lost 0.4%.
Companies: Shares of Barclays (BCS) rose more than 2% in premarket trading, after the the British bank reached a deal with outgoing CEO Bob Diamond, who quit as the bank faced criticism for its role in the Libor scandal. Although Diamond continues to receive salary and some benefits for a year or so, he declined his deferred bonus worth up to £20 million ($31 million).
Shares of microprocessor manufacturer Advanced Micro Devices (AMD, Fortune 500) plummeted 9% after the company warned late Monday that it expects second quarter revenue will drop 11% from the previous quarter because of weaker sales in China and Europe.
Troubled BlackBerry-maker Research In Motion (RIMM) holds its annual shareholder meeting on Tuesday. Late last month, the company announced 5,000 layoffs, a giant quarterly loss and another delay to its next BlackBerry operating system. Its shares were up 1% in premarket trading.
Economy: Investors will get a broad look at the global economy with the Organization for Economic Cooperation and Development's Employment Outlook 2012 report. The publication includes data on average wages, unemployment rates, hours and job growth for various countries.
Currencies and commodities: The dollar rose against the euro and British pound but fell versus the Japanese yen.
Oil for August delivery fell 83 cents to $85.16 a barrel.
Gold futures for August delivery rose $3.50 to 1,592.60 an ounce.
Bonds: The price on the benchmark 10-year U.S. Treasury fell, pushing the yield up to 1.52% from 1.51% late Monday.