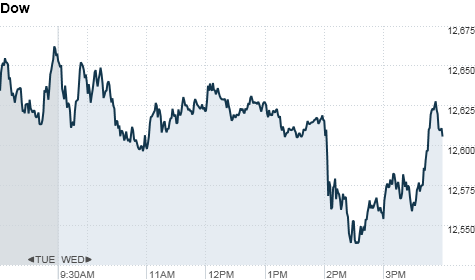 Click the chart for more stock markets data
NEW YORK (CNNMoney) -- U.S. stocks closed lower Wednesday for the fourth day in a row, after the minutes from the latest Federal Reserve meeting offered no new hints that another round of quantitative easing would be coming anytime soon.
Investors were hoping central bankers would offer up some signs that another round of quantitative easing, or QE3, was on the table. But the minutes from the Fed's policymaking meeting show the central bank is wary of the risks.
All three indexes rebounded from earlier lows. The Dow Jones industrial average (INDU) fell 49 points, or 0.4% and the Nasdaq (COMP) lost 14 points, or 0.5%. The S&P 500 (SPX) ended flat.
Investors also continued to digest the latest moves out of Europe. In a speech to parliament, Spanish Prime Minister Mariano Rajoy said the country would cut €65 billion ($79.6 billion) in less than three years by reducing government spending and raising taxes. Meeting budget-deficit reduction targets would require austerity and more efficiency, he said.
"We will significantly reduce the number of public institutions," Rajoy promised.
The speech came after European finance ministers agreed late Monday to offer the struggling country an initial €30 billion by the end of the month to help bail out its troubled banks. Yields for Spanish 10-year bonds, which have hovered around the perilous 7% level in recent weeks, fell to 6.59% Wednesday.
U.S. stocks closed lower Tuesday, as worries about corporate earnings falling short of expectations unnerved investors. No major corporate results are expected Wednesday, though reports are due later in the week from JPMorgan Chase (JPM, Fortune 500) and Wells Fargo (WFC, Fortune 500).
World markets: European stocks finished mixed. Britain's FTSE 100 (UKX) slid 0.1% and France's CAC 40 (CAC40) fell 0.5%, while the DAX (DAX) in Germany rose 0.2%.
Asian markets ended mixed. The Shanghai Composite (SHCOMP) added 0.5% and the Hang Seng (HSI) in Hong Kong edged higher by 0.1%, while Japan's Nikkei (N225) fell 0.1%.
Economy: The U.S. trade deficit stood at $48.7 billion in May, coming in just slightly below expectations. It dropped from $50.1 billion the prior month.
As expected, wholesale inventories for May increased by 0.3%.
Companies: When JPMorgan reports earnings Friday, the bank is expected to show how much it has lost so far due to the risk-taking of its London Whale trader. The report could generate even more interest if, as The Wall Street Journal reported Wednesday, the bank will make an example of executives behind the errors and reclaim stock from them worth millions.
Google (GOOG, Fortune 500) struck a preliminary deal with the U.S. Federal Trade Commission to pay a $22.5 million fine for evading some privacy settings on Apple's (AAPL, Fortune 500) Safari Web browser, a source with knowledge of the settlement told CNN.
The fine would be the largest penalty ever levied on a single company by the FTC over privacy issues, but it's still a financial wrist-slap for Google, which earned $2.9 billion last quarter. Under the terms of the deal, which remains subject to approval from FTC commissioners, Google would admit no wrongdoing.
Shares of online daily deal company Groupon (GRPN) tumbled almost 7% Wednesday to an all-time low of $7.88. Investors have worried about the company's longevity since it went public last November, shaving almost 70% off its initial stock price.
Currencies and commodities: The dollar rose against the Japanese yen, but was slightly lower versus the euro and the British pound.
Oil for August delivery settled up, rising $1.90 to $85.81 a barrel.
Gold futures for August delivery fell $9.30 to $1,571.60 an ounce.
Corn futures for December delivery jumped as much as 4.3% to $7.48 per bushel, after the U.S. Department of Agriculture said the corn crop will average just 146 bushels an acre this year due to the Midwest drought. That's down from the USDA's June estimate of 166 bushels per acre.
Bonds: The price on the benchmark 10-year U.S. Treasury was flat, keeping the yield at 1.50%.