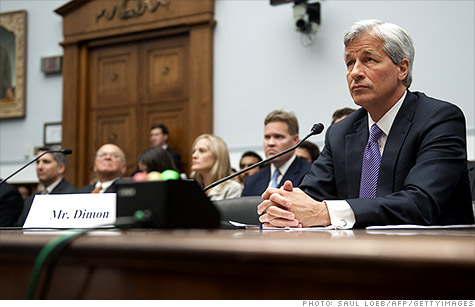 In June, JPMorgan's CEO spent hours answering questions from members of Congress on the bank's trading losses during two appearances on Capitol Hill.
NEW YORK (CNNMoney) -- Four JPMorgan Chase (JPM, Fortune 500) executives, including former chief investment officer Ina Drew, will give back up to two years of compensation for the so-called London Whale loss, which so far totals $5.8 billion.
JPMorgan executives declined to put a dollar figure on the clawbacks Friday, but said they would take back the maximum amount allowed under JPMorgan's bylaws, which amounts to two years' worth of compensation.
Drew, who oversaw the unit responsible for the loss, volunteered to give back the maximum amount, and JPMorgan executives said they were taking her up on her offer.
Drew retired shortly after the loss was revealed on May 10. At the time, JPMorgan was criticized for allowing Drew to retire because it allowed her to keep a $27 million exit package.
She received $14 million in total compensation in 2011 and $15 million in 2010, according to JPMorgan's annual proxy statement.
In a conference call with analysts Friday, CEO Jamie Dimon took a moment to praise Drew's contribution to JPMorgan. "I have enormous respect for Ina as a professional and as a person. She has integrity and tried to do what's right."
The bank declined to name the other three managers, other than to say they worked directly on the trades.
All four have left the bank since the loss was discovered.
"This is the more extreme end of the spectrum as far as clawbacks, but it's also the extreme end of the spectrum for losses," said Steve Hall, CEO of the executive compensation firm Steven Hall & Partners.
CEO Jamie Dimon, who was the highest paid bank CEO in 2011, told analysts Friday that any decision regarding his salary or bonus was up to the board. Dimon earned $23.1 million in cash and stock last year.
Bank executives said this is just the beginning of its plans to claw back pay from those traders and managers who were responsible for the massive trading losses.
JPMorgan has been playing defense since the errant trade first came to light. Dimon spent two days in front of lawmakers in Congress last month, taking the blame, apologizing and promising to take action.
On Friday, Dimon and his deputies took pains to explain the new dawn in risk management and in the bank's chief investment office.
JPMorgan executives said a "couple" of other individuals related to the trades have left the bank and a "couple" of others have been reassigned to different areas. Executives declined to comment on the exact numbers.
The CIO office will no longer trade derivatives. Unwinding what's left of the London Whale position in derivative indexes is now the task of the investment banking division.
Dimon ended his conversation with analysts Friday morning saying "better news next time." Investors appear to be banking on that as the stock moved up nearly 6% Friday.