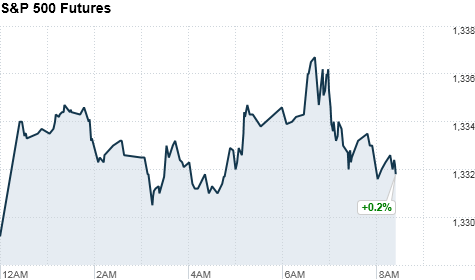 Click on chart for more premarket data.
NEW YORK (CNNMoney) -- U.S. stocks were poised to open higher Friday in the wake of JPMorgan's second-quarter earnings and disclosure that it has lost $5.8 billion on a trading blunder so far this year.
Dow Jones industrial average (INDU), S&P 500 (SPX) and Nasdaq (COMP) futures were up about 0.4%. Stock futures indicate the possible direction of the markets when they open at 9:30 a.m. ET.
JPMorgan Chase (JPM, Fortune 500) reported earnings of $5 billion on revenue of $22.9 billion. Its shares oscillated wildly near breakeven in premarket trading after the bank said its pretax trading loss from risky derivatives totals $5.8 billion so far this year.
In a separate filing with the Securities and Exchange Commission, JPMorgan stated it recently discovered insiders possibly hid significant data, "seeking to avoid showing the full amount of the losses being incurred in the portfolio." The bank restated its first-quarter results, lowering net income by $459 million.
Combined with further signs of a Chinese economic slowdown and continuing worries in Europe, it might seem odd that markets are responding well. Not so, said Mark Luschini, chief investment strategist at Janney Montgomery Scott in Pittsburgh.
"Bad news is good news," he said. "There's now a heightened probably that the Federal Reserve will step in with some quantitative easing program beyond Operation Twist."
The government reported prices in June rose by 0.1%, despite expectations that they would fall by more than half a percent. A report on consumer sentiment will follow later Friday morning.
Anxiety remains about the European debt crisis. Investors are concerned that political headwinds in Europe will stymie the latest rescue plan for the euro currency union, which eurozone leaders announced at a summit meeting late last month.
On Friday, Moody's downgraded Italy's government debt two levels, citing an increased likelihood the country will be slammed by higher borrowing costs. The culprits: possible contagion from troubles in Greece and Spain.
"Italy's near-term economic outlook has deteriorated," Moody's said in a statement.
Yields on the Italian 10-year bonds fluctuated little, remaining at 5.99%.
U.S. stocks fell Thursday as fears about a global economic slowdown and disappointing corporate results weighed on the market.
World markets: European stocks rose in afternoon trading. Britain's FTSE 100 (UKX) added 0.5%, the DAX (DAX) in Germany gained 0.9% and France's CAC 40 (CAC40) ticked up 0.5%.
Figures released on China's economy added fuel to the notion of a global slowdown. In the second quarter, GDP in China grew at an annual pace of 7.6%, the lowest in three years and a deceleration from the 8.1% growth rate it saw the previous quarter.
Asian markets ended just above breakeven. The Shanghai Composite (SHCOMP) and Japan's Nikkei (N225) closed slightly higher, while the Hang Seng (HSI) in Hong Kong added about 0.4%.
Economy: The University of Michigan's Consumer Sentiment Index for July is due at 9:55 a.m. ET. It's expected to come in at 73.5, up from 73.2 last month.
Companies: Wells Fargo (WFC, Fortune 500) is posted earnings of 82 cents on $21.4 billion in revenue, on par with expectations. Shares of the bank fell almost 1% in premarket trading. On Thursday, the Department of Justice announced the bank agreed to pay $175 million to settle allegations that it discriminated against minority borrowers.
Currencies and commodities: The dollar gained versus the euro, but lost ground against the British pound and Japanese yen.
Oil for August delivery rose 57 cents to $86.65 a barrel.
Gold futures for August delivery rose $13.30 to $1,578.60 an ounce.
Bonds: The price on the benchmark 10-year U.S. Treasury was little changed, with the yield up holding steady at 1.48% from late Thursday.