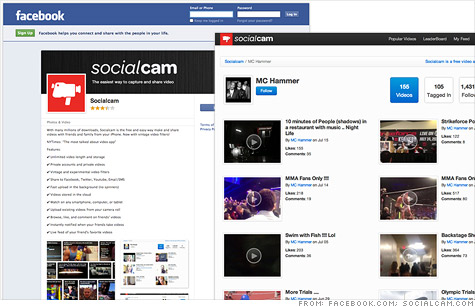 Socialcam quickly drew millions of users thanks to its aggressive tactics for spreading on social networks like Facebook.
NEW YORK (CNNMoney) -- In the battle of video sharing apps, Socialcam just made a bold move: The year-old startup sold itself to software maker Autodesk.
The companies put the purchase price at $60 million, but did not disclose whether that is cash, Autodesk (ADSK) stock, or a mix.
Autodesk is best known for its CAD (computer-aided design) engineering software, but it has been branching out into the consumer market with products like SketchBook, a drawing app for tablets and smartphones.
Autodesk vice president Samir Hanna said Socialcam will remain relatively independent.
"We like to have a light touch when we acquire a company," he told CNNMoney. "We share the same passion on what needs to happen."
Socialcam, one of several rival apps trying to become "the Instagram for video," lets users to record and edit videos using their smartphones. They can also add artistic filters similar to those on Instagram's photosharing app and share their recordings with friends and followers.
Both Socialcam and its archrival, Viddy, burst onto the scene and quickly drew millions of users, thanks to their extremely aggressive tactics for spreading through social networks like Facebook. If a friend posts a Socialcam video on Facebook, you can't watch it without installing Socialcam's app -- and by default, the app will broadcast on your Facebook Timeline a rundown on what you're watching.
Socialcam has made a few changes in response to the backlash, according to Socialcam CEO Michael Seibel. The app now makes it clearer when users are sharing videos, he said.
"A lot of the criticism we got early on has been addressed," Seibel said.
Socialcam currently has 54 million monthly active users, higher than Viddy's 14 million monthly active users, according to AppData, which measures the reach of Facebook apps. However, both video-sharing sites have seen their audience decline over the past month, by AppData's estimates.
Launched out of tech incubator Y Combinator, San Francisco-based Socialcam has a small staff of four led by Seibel, a repeat entrepreneur who previously co-founded Justin.tv, a site that let people broadcast on the Internet.
All four plan to remain with Socialcam and join Autodesk, which is is based nearby in San Rafael, Calif.