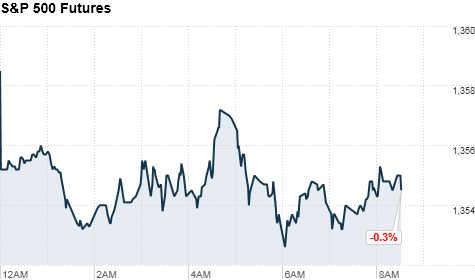 Click on chart for more premarket data.
NEW YORK (CNNMoney) -- U.S. stocks were poised for a lower open Wednesday as investors considered the latest corporate earnings and awaited a second day of Congressional testimony from Federal Reserve chairman Ben Bernanke.
Dow Jones industrial average (INDU), S&P 500 (SPX) and Nasdaq (COMP) futures were lower. Stock futures indicate the possible direction of the markets when they open at 9:30 a.m. ET.
Bank of America (BAC, Fortune 500) reported strong quarterly results before the opening bell. IBM (IBM, Fortune 500) and American Express (AXP, Fortune 500) will post their quarterly data after the close.
Bernanke will give his semi-annual monetary policy testimony before the House Financial Service Committee at 10 a.m. ET. It's unlikely he'll veer far from Tuesday's testimony before the Senate Banking Committee, when he raised concerns about Europe's debt crisis and the so-called "fiscal cliff" in the United States.
Bernanke offered few hints about whether the Fed will engage in further economic stimulus, such as a new round of buying up securities, in the months to come.
David Abuaf, chief investment officer at Hefty Wealth Partners, said premarket trading is little changed because uneasiness remains rampant.
"People just don't know what to expect yet," Abuaf said.
U.S. stocks held on to gains Tuesday. Investors digested Bernanke's Senate testimony and solid corporate earnings reports.
World markets: European stocks were slightly higher in midday trading. Britain's FTSE 100 (UKX) was flat, while the DAX (DAX) in Germany edged up 0.1% and France's CAC 40 (CAC40) gained 0.6%.
Anxieties continue to loom over Europe's debt crisis. A decision is not expected for another eight weeks from Germany's highest court on the legality of the eurozone's multinational bailout fund, the European Stability Mechanism. And in Spain, Finance Minister Cristóbal Montoro said tax collection must improve soon or the country won't be able to pay its public employees.
Asian markets ended mixed. The Shanghai Composite (SHCOMP) rose 0.4%, while the Hang Seng (HSI) in Hong Kong lost 1.1% and Japan's Nikkei (N225) shed 0.3%.
Economy: The U.S. Census Bureau issued a construction report that failed to meet forecasts. Housing starts in June rose 6.9% from the previous month to an annual rate of 760,000 units -- the highest level in nearly four years -- while building permits eased 3.7%.
At 2 p.m. ET, the Federal Reserve will release its Beige Book, which is a report on economic activity in its 12 regional districts.
Companies: Bank of America beat analysts' expectations, reporting earnings of 19 cents a share on revenue of $22.2 billion. Shares rose more than 1% in premarket trading.
IBM is projected to report earnings of $3.42 a share on $26.7 billion in revenue, while American Express is projected to post earnings of $1.09 a share on $8.1 billion in revenue.
After the close Tuesday, Intel (INTC, Fortune 500) reported a slight drop in earnings versus last year but an increase in revenue. Shares eased 1% in premarket trading.
Yahoo (YHOO, Fortune 500) shares slipped 0.3% in premarket trading, following middling second-quarter results.
Currencies and commodities: The dollar rose against the euro and British pound, but fell versus the Japanese yen.
Oil for August delivery fell 82 cents to $88.80 a barrel.
Gold futures for August delivery fell $10.90 to $1,578.50 an ounce.
Bonds: The price on the benchmark 10-year U.S. Treasury rose, pushing the yield down to 1.48% from 1.50% late Tuesday.