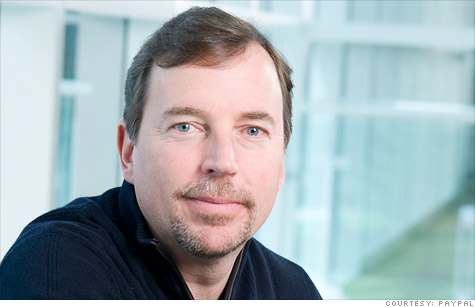 NEW YORK (CNNMoney) -- After a scandalous exit from Yahoo, Scott Thompson has landed on his feet as the CEO of ShopRunner.
The two-year old online shopping service announced Monday that Thompson will take the company's reins, and its co-founder and existing CEO Mike Golden will stay on as president.
Thompson had already been a part of ShopRunner, having joined its board when he was president of eBay (EBAY, Fortune 500) subsidiary PayPal.
"Joining ShopRunner is a tremendous opportunity to build on the strong foundation that the company has already established," Thompson said in a statement. "While PayPal and ShopRunner are fundamentally different businesses, there are similarities in each of their success."
The startup partners with more than 60 online retailers. For a monthly fee, ShopRunner subscribers can get free two-day shipping and discounts to a list of stores that includes a handful of big names, including Toys R US and PetSmart (PETM, Fortune 500).
Thompson left Yahoo (YHOO, Fortune 500) in May, just four months into his tenure. His departure came amid a firestorm over the discovery that his official Yahoo bio embellished his academic credentials, claiming a dual degree in "accounting and computer science." Thompson's actual degree is only in accounting.
Yahoo named former Google (GOOG, Fortune 500) exec Marissa Mayer as Thompson's replacement earlier this month.
At ShopRunner, Thompson gets a fresh start with a company he helped guide from its infancy. Co-founder Mike Golden said in a statement that Thompson had "an immediate understanding of the potential impact of ShopRunner," and he felt Thompson would be "the perfect long-term CEO."