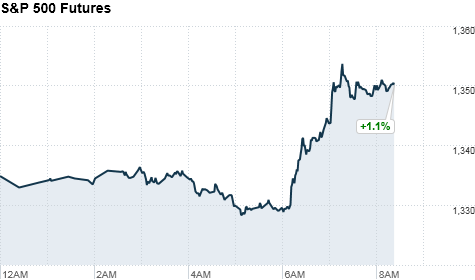 Click the chart for more premarket data.
NEW YORK (CNNMoney) -- U.S. stocks futures moved sharply higher Thursday after European Central Bank president Mario Draghi said the central bank would do whatever it takes to preserve the euro.
Speaking at an investment conference in London, Draghi's comments suggest the ECB may start buying bonds again in an effort to help bring down skyrocketing borrowing costs.
"His comments certainty suggest that ECB purchases of Spanish and Italian bonds are back on the table, as is another LTRO," said Chris Scicluna, deputy head of economic research at Daiwa Capital Markets. Long-term refinancing operation, or LTRO, is the ECB's cheap lending program for banks aimed at preventing a credit crunch.
U.S. stock futures, which had been lower for most of the morning, spiked more than 1% following Draghi's comments, pointing to a strong open.
Europe's debt crisis remains a significant headwind for global markets. Investors have been growing increasingly convinced that Spain will need a sovereign bailout. Though Spain's 10-year yield has pulled back near 7%, after touching an all-time high of 7.75% Wednesday, the country's borrowing costs remain unsustainably high.
Thursday also brings a fresh batch of corporate results for investors to sift through.
Exxon Mobil's profit surged 49% to $15.9 billion during the second quarter. The massive number -- which would be by far the highest quarterly profit ever for any company, including a special gain for divestitures. Shares of Exxon (XOM, Fortune 500) edged higher.
The most anticipated numbers of the day, however, won't come until after the bell, when Facebook (FB) reports its first set of quarterly results as a public company.
Of the 215 S&P 500 companies that have reported so far, about 67% have beat Wall Street's expectations, according to S&P Capital IQ. Analysts are currently expecting overall S&P 500 second-quarter earnings to decline 0.38%, which mark the end of ten-quarter winning streak.
On the economic front, investors parsed through reports on initial jobless claims, durable goods orders and pending home sales.
Recent weakness in economic data has revived the debate over whether the Federal Reserve will take steps soon to stimulate the economy. While Fed chief Ben Bernanke has reassured that the central bank stands ready to give the economy a boost if necessary, it's unclear just how effective any further economic stimulus would be.
U.S. stocks closed the day in mixed territory Wednesday.
World markets: European stocks jumped after Draghi's comments, with all three indexes up more than 1%. Britain's FTSE 100 rose 1.1%, the DAX in Germany added 1.3% and France's CAC 40 surged 2.2%.
Asian markets ended mixed. The Shanghai Composite lost 0.5%, while the Hang Seng in Hong Kong ticked up 0.1% and Japan's Nikkei rose 0.9%.
Economy: The number of people filing for initial jobless claims fell 35,000 to 353,000 in the latest week, according to the Labor Department. Analysts were expecting a reading of 381,000 unemployment claims.
The Census Bureau reported that durable goods orders rose 1.6% in June, far better than the 0.3% increase economists were expecting.
Pending home sales, on tap for 10 a.m. ET from the National Association of Realtors, are expected to have increased by 0.9% in June.
Companies: Zynga's (ZNGA) stock plunged 40% early Thursday, a day after the online-gaming company badly missed earnings expectations. Shares of Facebook, which earns roughly 18% of its revenue from users who play Zynga games on its platform, were also down sharply in premarket trading.
Facebook is expected to report quarterly earnings of 12 cents a share on $1.15 billion in revenue Thursday afternoon, according to a survey of analysts by Thomson Reuters.
Shares of Sprint Nextel (S, Fortune 500) rallied after the wireless carrier reported a higher revenue and subscriber base for the second quarter.
3M (MMM, Fortune 500) reported better-than-expected earnings, but the company's revenue fell short of estimates, sending shares lower.
Shares of Whole Foods (WFM, Fortune 500) were up sharply after the organic grocery store chain's earning surpassed Wall Street's expectations and the company raised its forecast for the year.
Currencies and commodities: The euro popped in response to Draghi's comments, rising almost 0.9% verus the dollar. The greenback was down versus the British pound, and flat against the Japanese yen.
Oil for September delivery rose 73 cents to $89.70 a barrel.
Gold futures for August delivery fell $11.00 to $1,619.10 an ounce.
Bonds: The price on the benchmark 10-year U.S. Treasury fell, pushing the yield up to 1.43% from 1.41% late Wednesday.