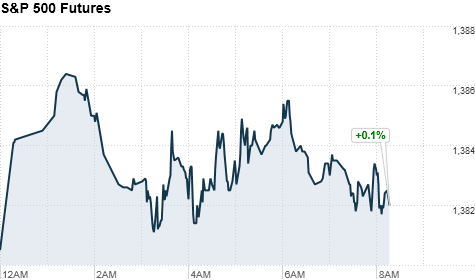 Click the chart for more stock market data.
NEW YORK (CNNMoney) -- It's expected to be another day of cautious trading for U.S. stocks, as investors await any possible stimulus announcements by U.S. and European central bankers later this week.
U.S. stock futures were only slightly higher Tuesday.
A handful of economic reports are on tap for the morning, including key readings on consumer confidence, spending and income.
But investors are waiting for central bank meetings in the United States and Europe this week, when they'll find out whether the U.S. Federal Reserve and the European Central Bank will take new stimulus measures to boost the economy.
The Fed's two-day meeting culminates in an announcement Wednesday afternoon. The ECB will take center stage Thursday with its Governing Council meeting in Frankfurt.
All three indexes closed slightly lower Monday, with the Dow Jones Industrial Average and the S&P 500 ending nearly flat, as investors held off on making big bets before the meetings.
Heading into Tuesday, the final day of July, all three indexes are poised for mild gains for the month. The Dow is on track for a 1.5% uptick, and the S&P 500 is set for a 1.7% increase. The Nasdaq is on pace for a 0.4% rise.
World markets: European markets were mixed in afternoon trading. Britain's FTSE 100 slid 0.2% and CAC 40 slide just below the breakeven line, while the DAX in Germany added 0.5%.
The unemployment rate for the 17-nation eurozone held steady from the previous month at a record 11.2% in June, according to Eurostat, the European Union's statistical office. In the broader 27 nations that make up the EU, the unemployment rate in June remained at 10.4% -- unchanged from May.
Eurostat also said that inflation was unchanged in July, at 2.4%.
Asian markets ended mixed. The Shanghai Composite lost 0.3%, while the Hang Seng in Hong Kong gained 1.1% and Japan's Nikkei rose 0.7%.
Economy: Personal income rose 0.5% in June, while spending remained unchanged, according to a government report. Economists surveyed by Briefing.com expected a 0.4% increase in income and a 0.1% rise in spending.
The S&P/Case-Shiller index of home prices for 20 cities will be released before the opening bell, with economists forecasting a 1.8% drop in prices in May, following a 1.9% decline in the previous month.
The Chicago PMI, a regional reading on manufacturing activity, is expected to have edged lower to 52.5 in July from 52.9 in June.
A consumer confidence index comes out after the market opens, with economists predicting a slight decline to 61 for July from a reading of 62 the previous month.
Companies: Coach (COH) shares sank after the retailer reported revenue that fell short of forecasts.
Oil producer BP (BP) reported a loss of $1.4 billion for the second quarter, sending shares sharply lower. The company wrote down the value of $5 billion worth of assets, including U.S. refineries and shale gas assets, and had continued costs related to the Gulf of Mexico oil spill.
UBS (UBS) said its second-quarter profit tumbled 58% from a year earlier due to lower trading revenue and losses from the botched Facebook (FB) IPO. The Swiss bank said it incurred a loss of 349 million Swiss francs due to problems executing electronic trades when Facebook debuted on the Nasdaq in May.
UBS said it will take legal action against Nasdaq to address its "gross mishandling of the offering and its substantial failures to perform its duties."
Deutsche Bank (DB) said its second-quarter profit dropped 44% and revenue declined 6% as Europe's sovereign debt crisis weighs on investor confidence and client activity across the bank. The bank said it is cutting 1,900 jobs, mostly outside of Germany, in an effort to save €350 million.
Shares of Pfizer (PFE, Fortune 500) rose in early trading after the drug maker beat earnings and revenue expectations.
Currencies and commodities: The dollar fell against the euro and the Japanese yen, but gained ground versus the British pound.
Oil for September delivery rose 21 cents to $89.99 a barrel.
Gold futures for August delivery rose $2.40 to $1,622.10 an ounce.
Bonds: The price on the benchmark 10-year U.S. Treasury edged higher, pushing the yield down to 1.48% from 1.50% late Monday.