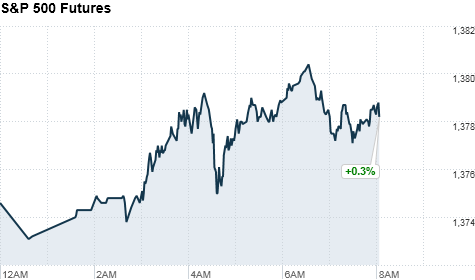 Click the chart for more premarket data.
NEW YORK (CNNMoney) -- U.S. stocks were headed for a higher open Wednesday, as investors gear up for a spate of economic data ahead of the Federal Reserve's monetary-policy decision.
U.S. stock futures were up between 0.2% and 0.4% ahead of the open.
The Fed wraps up its two-day meeting Wednesday, and is due to announce the outcome of its latest policy meeting at 2:15 p.m. ET.
Investors are hoping that the central bank will announce some form of stimulus to jumpstart the slowing economy, but expect that it will hold off from more aggressive actions, such as a third round of bond buying, or QE3.
"The data continue to be weak enough to move the Fed closer to new action, yet probably not weak enough to force a quick decision so soon after Operation Twist was extended," said Jim O'Sullivan, chief U.S. economist at High Frequency Economics.
"However ... we do expect a change in the Federal Open Market Committee's rate guidance at this meeting, with an extension of the 'exceptionally low' signal on the funds rate to mid-2015 from late 2014, as well as a hint of new stimulus measures soon," he added.
Meanwhile, reports will be released throughout the morning on U.S. private-sector payrolls, manufacturing, construction spending and auto sales.
The European Central Bank will take center stage Thursday, when its Governing Council meets in Frankfurt. Investors are hopeful that the ECB will announce some form of new action, after central bank head Mario Draghi said last week that the institution will do "whatever it takes" to preserve the euro.
U.S. stocks closed down slightly Tuesday in another day of cautious trading ahead of the Fed meeting.
World markets: European stocks were mixed in afternoon trading. Britain's FTSE 100 added 0.9%, while the DAX in Germany edged down 0.2% and France's CAC 40 ticked up 0.8%.
Manufacturing activity in the United Kingdom shrank at the fastest pace in more than three years in July. The Markit/CIPS Manufacturing Purchasing Managers' Index's (PMI) dropped to 45.4 in July, from 48.4 the prior month.
Manufacturing activity also continued to contract across the eurozone. The Markit Final Eurozone Manufacturing PMI fell to 44 in July, a more than three-year low but roughly in line with forecasts. Italy's manufacturing activity was at a three-month, while manufacturing activity in Spain rose to a three-month high.
Asian markets ended mixed. The Shanghai Composite rose 0.9% and the Hang Seng in Hong Kong edged higher 0.1%, while Japan's Nikkei lost 0.6%.
Manufacturing activity continued to contract in China in July. HSBC's PMI for the month came in at 49.3, up from 48.2 in June. While the slowdown in activity eased a bit, a reading below 50 still indicates a contraction.
However, figures from the government showed that manufacturing in China expanded slightly during the month, but slowed from June. The China Federation of Logistics and Purchases's PMI came in at 50.1 in July, down from 50.2.
Economy: U.S. private-sector employers add 163,000 jobs in July, payroll-processor ADP says. Economists had expected an addition of 125,000 jobs.
The Institute for Supply Management's Manufacturing Index for July is due at 10 a.m. ET. It's expected to come in at 50.1, up from 49.7 last month. Construction spending for June, due from the Census Bureau at 10 a.m. ET, is expected to have risen by 0.5%.
Data on auto and truck sales will also be released Wednesday.
Companies: Time Warner (TWX, Fortune 500) shares dipped after the media giant's quarterly earnings and revenue fell from a year ago and missed analyst expectations.
Comcast (CMCSA) reported better-than-expected earnings and sales figures for the second quarter, as the company added new customers for its Internet and phone services.
Shares of Avon Products (AVP, Fortune 500) fell after the company's second-quarter profit dropped 70% from a year ago and sales fell 9%, coming in below expectations.
Currencies and commodities: The dollar fell against the euro and Japanese yen, but gained ground versus the British pound.
Oil for September delivery rose 12 cents to $88.18 a barrel.
Gold futures for August delivery rose $1.40 to $1,611.90 an ounce.
Bonds: The price on the benchmark 10-year U.S. Treasury fell, pushing the yield up to 1.49% from 1.43% late Thursday.