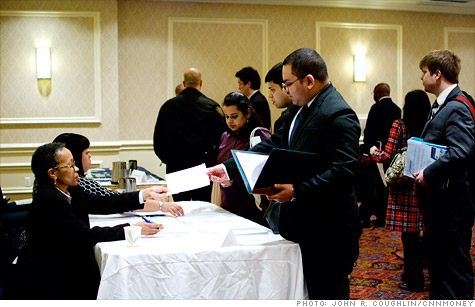 ADP jobs report shows companies added jobs in July.
NEW YORK (CNNMoney) -- Companies expanded their payrolls more than expected in July.
Businesses added 163,000 jobs last month, according to payroll-processing company ADP. Economists surveyed by Briefing.com predicted the figure would come in at 125,000.
Still, that's less than the 172,000 added in June, which was revised down slightly from ADP's initial report.
The ADP jobs report strengthens the view that the pace of hiring has picked back up after slowing sharply in the spring, said Joel Prakken, chairman of Macroeconomic Advisers.
"Today's estimate from ADP, if re-enforced by a similar reading on employment from the BLS [Bureau of Labor Statistics] on Friday, will alleviate concerns that the economy has slipped into a downturn," Prakken said.
Small businesses with fewer than 50 employees took the lead in hiring, adding 73,000 positions.
Medium-sized businesses grew payrolls by 67,000, while large companies with at least 500 workers added 23,000 positions.
Manufacturers added 6,000 positions, while the service sector brought on 148,000 workers last month. Construction employment rose for the second straight month, adding 5,000 jobs. The financial services sector added 9,000 positions, the 12th month of gains.
Businesses have restored nearly four million jobs over the past 2.5 years, according to ADP.
The current pattern of employment gains, averaging a little above 150,000 in June and July, show that hiring isn't as weak as some say, said Paul Ashworth, chief U.S. economist for Capital Economics.
"Not great, but just about enough to keep the unemployment rate on a gradual downward trend," he said.
The ADP report -- which only tracks private-sector employment -- is closely watched as a harbinger of the government's monthly jobs report. But it isn't always a good predictor. In June, for example, the Labor Department's report came in much weaker than the ADP report had many expecting.
CNNMoney's survey of economists predicts the economy added 95,000 jobs in July, which includes 105,000 job gains in the private sector and 10,000 job losses in the public sector. They estimate the unemployment rate stayed at 8.2%.
All eyes are on the job market these days as the November election approaches. The economy is stuck in neutral, with both job growth and economic growth weakening, giving Obama one more hurdle in his quest to secure a second term.
The economy added an average of just 75,000 jobs per month in the second quarter, while the growth in gross domestic product slowed to a paltry 1.5% amid weak consumer spending, government cuts and a rise in imports from foreign countries.